Jada Pinkett-Smith In 2009: 'There Is No Divorce For Me'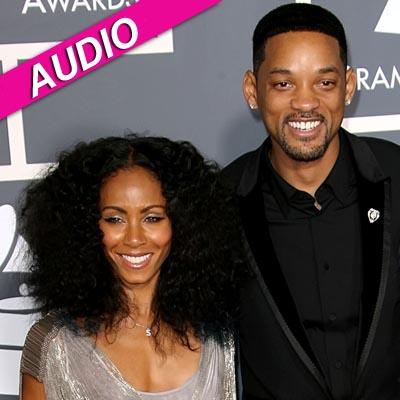 By Adam S. Levy - RadarOnline.com Staff Writer
Divorce is not a word in Jada Pinkett-Smith's vocabulary.
In the wake of Tuesday's disputed In Touch Weekly report that she and hubby Will Smith are bound for splitsville, we've revisited this chat Jada had in 2009 with the nationally syndicated Bert Show, in which she makes her thoughts on divorce clear: It's not an option.
Jada, 39, was asked if it's a lot of pressure to maintain her idyllic Hollywood marriage: She admitted it is, but she's in it for the long haul regardless.
Article continues below advertisement
Jada said she told Will when he proposed to her, "Be clear, there is no divorce for me -- I'm not doing that -- so when you're asking me to get married, do know, that you might be sleeping in one bedroom and I might be sleeping in another, but we'll be in the same house!
"We really took to heart the commitment we were making," Jada said, noting marriage is "hard.
"It's the hardest thing you'll ever do in your life!" she said. "It looks easy, but we have the same problems that everybody else does ... Will and I, we've learned a lot through trial and error."
Asked about the rumors then-swirling around the A-list couple -- they're secretly gay, swingers, or both -- Jada said they're reflective of how skeptical some can be in terms of believing a happy and healthy Hollywood marriage could exist.
"Well yeah, the idea that that's the only way a marriage could work; that's the only way these two could be together," she said. "I've heard all of the rumors: the marriage is not real, he's gay, she's gay, they swing ... one thing Will and I are not here to do is fake things ... what's real for us is what's real for us.
Article continues below advertisement
"It's too hard to be in a pretend marriage," the gorgeous mother-of-two said. "Life is too short for that one."
On Tuesday, the couple declared in a joint statement, "We are still together, and our marriage is intact."
On Wednesday, an insider told us that the couple is weighing their legal options following the In Touch Weekly report.
"Will and Jada are not splitting and they've already got their legal team involved," the insider told us. "Like any other A-list couple, they're used to inaccurate reports sometimes, but when it comes to their marriage, they don't appreciate anyone demeaning it."