Marc Anthony: I Didn't Cheat On Jennifer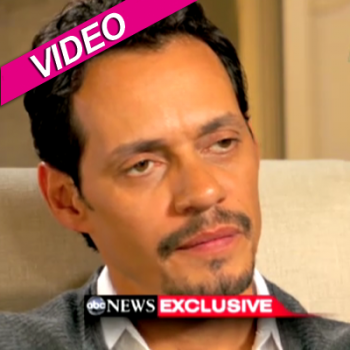 Marc Anthony, in his first interview since splitting with Jennifer Lopez earlier this summer, laughed off a series of tabloid rumors implying he slept around on his beautiful ex.
"It was a flight attendant, it was the pilot -- I heard it was this guy sitting next to me in a rehab in Houston. I've heard it all," Anthony joked to ABC's John Quinones about the myriad of rumors that have cropped up, attempting to explain why the celebrity marriage didn't last. "People are trying to peg it on things because it was so shocking.
Article continues below advertisement
"It was like, it must have been something," Anthony, 42, said in a preview of Thursday's Nightline interview that aired on Good Morning America. "It wasn't something sensationalistic."
The I Need To Know singer told Quinones that the split was relatively drama-free, as both he and J.Lo knew it just wasn't meant-to-be.
"It was a realization on both our parts," he said. "It wasn't shocking. These things happen. It's a decision that we made jointly. And that's how I'll answer that."
Despite the normal sadness associated with the end of a marriage, Anthony said he and J.Lo stayed positive in trying to make their split painless for both parties.
"This is not a funeral: This is just two people who came together and just realized … that it wasn't sustainable the way it was, and that's that."
Anthony, who has 3-year-old twins Max and Emme with the American Idol judge, took a positive tack in predicting his future as a co-parent.
Article continues below advertisement
"We're going to be in each other's lives for many, many, many years, and I'm glad that our friendship is that strong ... what would make it difficult is if we didn't get along," he said.
Asked by Quinones if he still loves the Selena star, the salsa hitmaker admitted, "I'll always love Jennifer. Yeah. I'll always love Jennifer.
"She knows that and my kids know that. Jennifer is a wonderful, wonderful woman, a wonderful mother, a wonderful friend.
Watch the video on RadarOnline.com
Quinones also asks Anthony if he was heartbroken when he knew his marriage was over.
"It is sad. It is sad you think of the impact of all those people who believed in you. You think about your family. You think about the possibilities," Anthony said. "But we realized that very, very early on that even though we are not together, this story is not over. There's stuff to do together. There's life to see together thru the kids ... it's all good."
Article continues below advertisement
While this is Anthony's first interview about the split, in August, Lopez spoke to Vanity Fair. In her interview, the Jenny From The Block singer said despite her marriage ending, she still believes in love.
"It's still my biggest dream. I am positive -- determined to move forward with my life, bring up my babies, and do the best job I can as a mother, entertainer, and person. I now look forward to new challenges. I feel strong."
Lopez also spoke about her feelings toward Anthony, saying she "will always respect Marc as a singer and performer ... He will always be in our lives. He will always hold a special place in my heart as the father of my children."
As RadarOnline.com has previously reported, on July 15, Anthony and Lopez announced they were divorcing after seven years of marriage.
In a joint statement at that time they said: "We have decided to end our marriage. This was a very difficult decision. We have come to an amicable conclusion on all matters."
The couple married in 2004 in their Beverly Hills home. They have two children -- 3-year-old twins, Max and Emme.
ABC News will air much more of its interview with Marc Anthony on a special edition of Nightline Thursday at 11:35/10:35c.