Marc Anthony Gives First Post-Split Interview To ABC News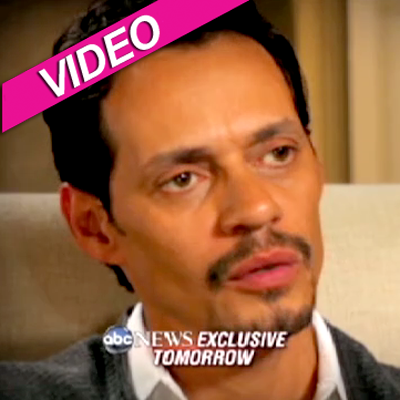 ABC News has scored the first TV interview with Marc Anthony talking about his split with Jennifer Lopez.
In a promo teasing the highly anticipated interview, reporter John Quinones asks Anthony if he still loves J-Lo, to which he replies "I'll always love Jennifer."
ABC News will broadcast part of the interview on Thursday's edition of Good Morning America and much more of it in a special Nightline on Thursday night.
Article continues below advertisement
Earlier this month, Lopez gave her first post-split interview to Vanity Fair. In the interview, the Jenny From The Block singer said despite her marriage ending, she still believes in love.
"It's still my biggest dream. I am positive -- determined to move forward with my life, bring up my babies, and do the best job I can as a mother, entertainer, and person. I now look forward to new challenges. I feel strong."
Lopez also spoke about her feelings toward Anthony, saying she "will always respect Marc as a singer and performer ... He will always be in our lives. He will always hold a special place in my heart as the father of my children."
As RadarOnline.com has previously reported, on July 15, Anthony and Lopez announced they were divorcing after seven years of marriage.
In a joint statement at that time they said: "We have decided to end our marriage. This was a very difficult decision. We have come to an amicable conclusion on all matters."
The couple married in 2004 in their Beverly Hills home. They have two children -- 3-year-old twins, Max and Emme.