Oscar De La Hoya: I Cheated, But I'm No Tiger Woods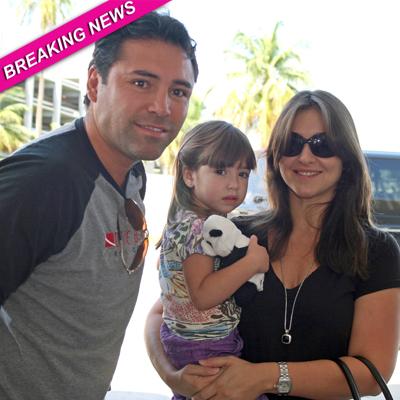 Boxer Oscar De La Hoya is a cheater, but he says he's no Tiger Woods!
The boxing legend has opened up about his battles with alcohol, drug addiction, wild women, and even suicidal thoughts, RadarOnline.com has learned.
His world champion fights have been aired around the world, and now the champ is revealing that his battles outside of the boxing ring, including cheating on his wife.
"We are obviously not talking a Tiger Woods here, but I was unfaithful," De La Hoya told Univision, reported ESPN.com.
Article continues below advertisement
The fighter, who won Olympic gold in 1992 and claimed world titles at six different weights, went on to reveal that his troubles weren't long ago, and things got so bad that he contemplated taking his own life.
"Rock bottom was recently," he explained. "Within a couple of years, I was just thinking if my life was even worth it. I don't have the strength, I don't have the courage to take my own life but I was thinking about it."
PHOTO: Tiger Woods' New Girlfriend Mug Shot
"There were drugs, my drug of choice was cocaine and alcohol, hmm. Cocaine was recent. The last two years and I depended more on the alcohol than the cocaine," said De La Hoya in his shocking confession.
"It took me to a place where I felt safe, it took me to a place where I felt as if nobody can say anything to me, it took me to a place where I just can reach out and grab my mom."