Exclusive
Rep. Phillip Hinkle Implicated In Sordid E-Mail Sex Scandal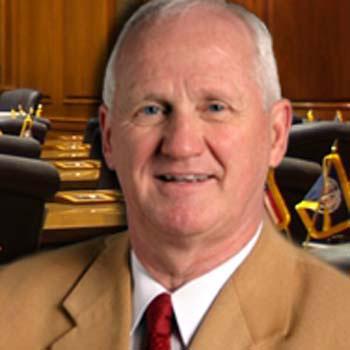 With Weinergate calmed down, we've been due for the next political sex scandal: Rep. Phillip Hinkle, come on down!
A new report from The Indianapolis Star puts the 64-year-old, six-term Republican lawmaker in a sordid Internet sex scandal, as emails obtained by the paper suggest he was attempting to pay for sex with a 18-year-old man named Kameryn Gibson. (Hinkle recently cast his vote supporting a constitutional amendment banning gay marriage.)
Article continues below advertisement
Based off emails, the paper reported that Hinkle responded to a Craigslist ad Gibson placed under the banner M4M (men for men) Casual Encounters. The ad -- featuring a picture of a shirtless Gibson -- was posted at 7:37 a.m. Saturday.
Less than an hour later (47 minutes, to be exact), Gibson told the paper he received a response from the email address phinkle46@comcast.net with an email signature that read "Sent from Phil's iPad."
In the exchange, phinkle46@comcast.net wrote, "Cannot be a long time sugar daddy but can for tonight. Would you be interested in keeping me company for a while tonight? ... I am an in shape married professional, 5'8", fit 170 lbs, and love getting and staying naked."
Gibson replied and the two negotiated over a price to meet -- $80 and a tip -- before agreeing on a number. After a few more emails over the details, they arranged to have their rendezvous at the JW Marriott hotel.
Article continues below advertisement
When they met, Gibson told the newspaper, the Indiana State Representative picked him up, gave him a room key, and told him to meet him upstairs, as they couldn't been seen together. Gibson said Hinkle showed up about 15 minutes later, changed into nothing but a towel, and revealed to him his high-profile job, even showing him his ID.
"My eyes got big," Gibson told the paper. "I didn't really know what to say, so I didn't say anything.
Gibson said he told Hinkle he wanted to back out but Hinkle refused to, telling him, "You need to do this, because I came and got you, and I'm not taking you back until we do what we need to do."
Gibson said Hinkle grabbed him, dropped his towel and sat down on the bed naked, exposing himself.
Gibson contacted his sister Megan to come get him and when she arrived, Gibson claims, more heated words were exchanged, and Hinkle offered up his iPad, a Blackberry and $100 in cash to quiet them. (They accepted it.)
Article continues below advertisement
Megan Gibson told the paper that after she and her brother left the hotel, she received a barrage of calls from Hinkle and his family members on the Blackberry he gave her, offering as much as $10,000 for her silence.
FIRST PHOTOS: Cheating Governor Mark Sanford Caught On Beach With Argentine Mistress
Megan said she took the story to the paper because she felt his actions were "creepy" and should be publicly known, given his position.
Asked if he was aware of the emails, Hinkle told the paper, "I am aware of a shakedown taking place."
Hinkle's office issued the following statement Wednesday: "Representative Hinkle is aware of the inquiries by The Indianapolis Star and we are investigating the matter at this time.
"We request that everyone respect the privacy of the family at this time."
RELATED STORIES:
Congressman Weiner Can't Say 'With Certitude' That Lewd Photo Isn't Of Him