You Can't Sit With Us! Robin Roberts Disses Amy Robach In New Memoir, Reveals Why She's Team Lara In Spencer's Feud With 'GMA' Co-Anchor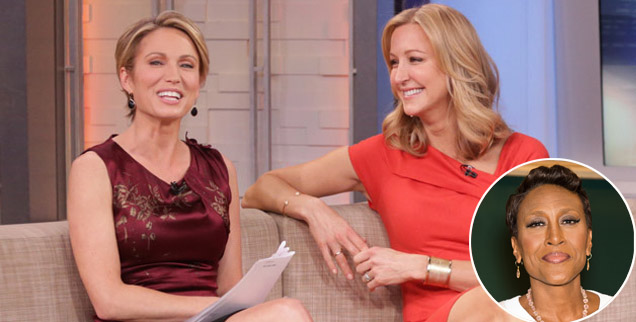 Article continues below advertisement
"What you see is what you get on our show, and our affection and energy in the morning is real," she writes of the foursome, neglecting to mention Robach, despite the fact that she has been making appearances on GMA since 2012 before joining full-time last year. "We really like one another, have fun with one another and respect one another."
"Sam Josh Lara, and I hung out together after work," she reveals. "George would join us occasionally…"
"We all brought something to the table. George Stephanopoulos is the grown-up. … Sam Champion has a booming laugh, but is serious and compassionate when out in the field … Josh Eliott is the tall, handsome jock who melts when talking about his precious little daughter. Lara 'I Brake For Yard Sales' Spencer is a bundle of energy who has perfected the art of covering pop news." As for Robach? No mention.
Article continues below advertisement
"When I'm asked why we have been so successful the last few years, my response has always been the same," Roberts continues. "It's ecause of the team in front of and behind the camera. The audience can tell we truly like each other, and we make others feel good too."
But Robach can't have felt good about being left out of the praise. In fact, RadarOnline.com has learned, she's left out of the rest of the book too, appearing just once when Roberts briefly recalls how she was "so nervous" to have a mammogram on air, and takes credit for saving Robach's life by urging her to do it!
Spencer was promoted to co-host earlier this week, making Roberts' diss all the more painful.
For more from Robert's revealing new memoir, stay tuned to RadarOnline.com!