Exclusive
They're Especially Cranky In The Morning! 'GMA' Star Lara Spencer Is Openly Despised By New Anchor Amy Robach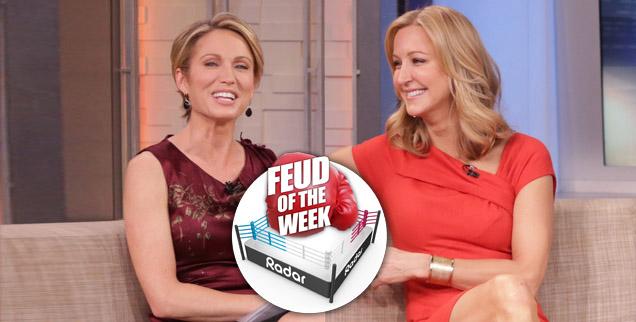 The cracks in Good Morning America's pristine facade are beginning to appear as sudden as the recent departures of Sam Champion, Josh Elliott and executive producer Ben Sherwood.
With Josh Elliott out, Amy Robach was quickly promoted, but she doesn't get along with co-host Lara Spencer, because she thinks the bubbly blond is all fluff and no substance, RadarOnline.com is exclusively reporting.
Reports emerged on Tuesday that Robach and Spencer don't get alon, and our sources tell us, "That is a major understatement.
Article continues below advertisement
"Amy doesn't get along with Lara at all, and can barely stand to be on the set with her. According to Amy, Lara is a total airhead, and doesn't have a strong journalism background that merits her being a part of Good Morning America. Amy is no-nonsense, very serious journalist. Lara is the opposite; Amy wishes Lara would go back to reporting for Entertainment Tonight."
Recently diagnosed with breast cancer, Robach underwent a grueling double mastectomy, and is undergoing chemotherapy, while continuing to work.
During this time, our source said, "Lara never came to visit Amy in the hospital, or even called her to see how she was doing; Robin Roberts, a breast cancer survivor, helped Amy navigate the complicated maze of what doctors to see, and has been a true friend to her during this time."
As RadarOnline.com previously reported, Elliott's ABC bosses were happy to see him jump ship to NBC because of all the drama he created.
Article continues below advertisement
"Josh is high-maintenance, and if viewers could see what he was like off the air, people would be truly shocked," an insider claimed, adding that the former ESPN reporter is extremely insecure and needs constant validation from his colleagues.
Holding the dysfunctional ABC morning news team together is Roberts, according to our source.
"She is the main reason why GMA is number one, period," the source said. "There was no way ABC was going to let Robin leave when her contract recently came up for renewal. If Josh thinks GMA got to number one because of him, he is totally misguided. The show will continue to dominate in the morning news ratings race, losing him won't change that."
Our sources also reveal, George Stephanopoulos "has made no secret that he wants Diane Sawyer's job, now," as "he is tired of waking up at 3 a.m. to do Good Morning America, and wants to be in primetime."
Credited with de-throning TODAY ​from the number one spot two years ago, executive producer Ben Sherwood just jumped ship for a huge promotion at Disney, as co-chairman of Disney Media in Burbank.
However, Sherwood was also blamed "for allowing Robin, Josh and Lara's contracts to expire all at the same time.
"With all three coming up at the same time, it made the talks very tough," the source added. "Especially since ABC did so much to keep Robin, making Josh and Lara feel slighted."
Amidst all the tumult and turnover, the TODAY show is primed "to recapture the number one position," our NBC insider said.
"There is a very good vibe going on among the cast and crew. It's only a matter of time before TODAY is back on top, for good," our NBC insider revealed.