Exclusive
Bad Move? NBC Has 'No Plans' For Josh Elliott To Replace Matt Lauer On 'TODAY,' As 'GMA' Bosses Say Good Riddance!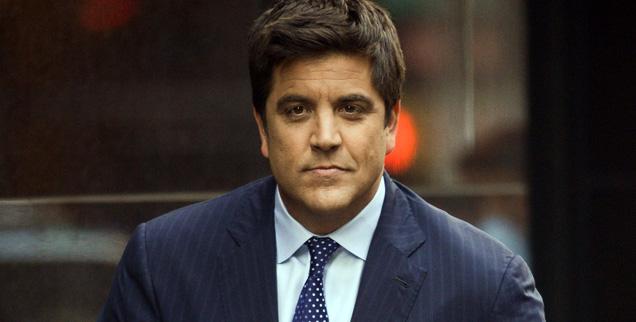 Has Josh Elliott's ego just torpedoed his career? After the Good Morning America host demanded an $8 million salary, his bosses called his bluff and watched him leave for NBC Sports. But now, NBC News sources tell RadarOnline.com exclusively that Elliott's on-screen time is about to go way down, since there are no plans for the former ESPN anchor to replace Matt Lauer on the TODAY show, despite rumors to the contrary.
Article continues below advertisement
"There are absolutely no plans for for Josh to replace Matt on Today," an insider tells RadarOnline.com. "This was purely a sports hire. Josh could appear occasionally for sports stories, but even that would be in a very limited capacity."
Says the source, "He might regret moving to NBC, especially because he will no longer be on television daily."
Meanwhile, an ABC source insists that at GMA, "The show will go on without missing a beat. Good Morning America never wants to lose it's talent, especially to a competitor, like NBC, but it's no big loss."
Article continues below advertisement
"Josh is high maintenance, and if viewers could see what he was like off the air, people would be truly shocked," an insider claimed.
"Josh is extremely insecure and needs constant validation from everyone around him about how wonderful he is and what a great job he is doing," the insider said. "Josh doesn't get along with Lara Spencer at all, and the two have had multiple fights over trivial issues about how stories are covered. The only female Josh hasn't fought with is Robin Roberts, because he respects her for her previous work at ESPN."
Speaking of Roberts, "She is the main reason why GMA is number one, period," the source said. "There was no way ABC was going to let her leave when her contract recently came up for renewal. If Josh thinks GMA got to number one because of him, he is totally misguided. The show will continue to dominate in the morning news ratings race, losing him won't change that."
He's not the only recent high-profile departure, however. Viewers were shocked when beloved weatherman Sam Champion recently announced that he was leaving ABC for The Weather Channel, which is owned by NBC Universal.