Exclusive
Ka-Ching! Robin Roberts Scores $20 Million Contract With 'Good Morning America'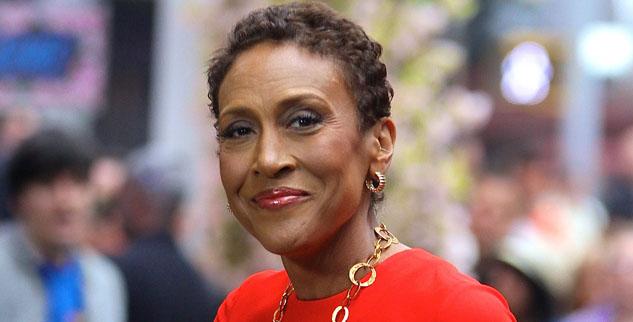 Robin Roberts, the popular Good Morning America co-anchor, has scored a whopping $20 million contract that is rankling the cast of the number one morning news program, RadarOnline.com is exclusively reporting.
Reports surfaced earlier this week that the breast cancer survivor's new contract with GMA was $14 million, however, multiple show insiders scoff at that figure and insist it's much higher.
Sources tell RadarOnline.com exclusively, "Robin's new contract will pay her $20 million a year....and will keep her at ABC for the next five years. The reason GMA skyrocketed to number one in the ratings is because of Robin, and everyone involved in the contract talks recognized that. Frankly, Robin could have demanded $25 million, and ABC would have paid it to her. She is worth it, and deserves the hefty payday. Diane Sawyer, anchor of ABC's World News, earns well over $22 million."
Article continues below advertisement
However, Robin's new contract has colleagues, Lara Spencer and Josh Elliott "extremely upset because their contracts are also up for renewal. Talks for their contracts took a backseat because of Robin.
"The network made no secret that Robin is the star and they both feel like the slighted stepchildren. Josh and Lara both contribute to the show, and they don't feel they are being recognized for it. It's an ensemble cast, and it's not being treated that way by executive producer Ben Sherwood. Neither one of them are demanding huge salary increases, they just want to be treated with respect," the insider added.
MORE ON:
George Stephanopoulos
Viewers of the number one-rated morning news program were shocked recently, when beloved weatherman Sam Champion announced that he was leaving ABC for The Weather Channel, which is owned by NBC Universal.
Meanwhile, George Stephanopoulos' contract also expires in January, and he is demanding to be made Diane Sawyer's replacement when she eventually retires.
"He has made no secret that he no longer wants to do morning television. George wants to replace Diane Sawyer when she decides to hang it up, but who knows when that will be? His strengths are doing hard news, and has been extremely successful as the host of the ABC's Sunday morning show, This Week.
"However, viewers also love George on GMA, and the news division doesn't want to rock the boat with replacing him on the show. A huge portion of George's contract talks will involve guarantees that he be the heir apparent to replace Diane," the source previously told us.
Roberts lucrative new contract makes her the highest paid woman in morning news.