'Good Morning America' Crisis As Anchors Demand More Money!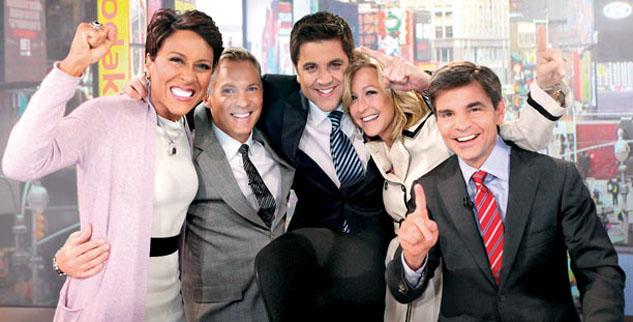 Article continues below advertisement
"Robin will definitely be getting a huge pay raise, she is the glue that holds the team together," a show insider told RadarOnline.com exclusively. "Viewers love her and are emotionally invested with Robin from her breast cancer battle to bone marrow transplant last year -- there is no way ABC is going to let Robin get away."
The bigger problem, the insider said, is with Stephanopoulos, whose contract expires next month.
"He has made no secret that he no longer wants to do morning television. George wants to replace Diane Sawyer when she decides to hang it up, but who knows when that will be? His strengths are doing hard news, and has been extremely successful as the host of the ABC's Sunday morning show, This Week.
"However, viewers also love George on GMA, and the news division doesn't want to rock the boat with replacing him on the show. A huge portion of George's contract talks will involve guarantees that he be the heir apparent to replace Diane."
MORE ON:
Good Morning America
Article continues below advertisement
Lara Spencer and Josh Elliott's contracts "are also being negotiated," according to the insider.
"Josh's reps have reached out to NBC Sports to determine if there is any interest there. He started at ESPN, and would love to have the opportunity to go back to his roots. NBC is appealing to Josh because the Peacock network has the broadcasting rights to the upcoming winter & summer Olympics. Lara just wants more money, period. She isn't anxious to leave," the source added.
Ginger Zee will be replacing Champion beginning on Thursday.
As RadarOnline.com previously reported during Roberts' medical leave last year, Stephanopoulos was displeased with Spencer's childish behavior, as Roberts served as a buffer between Spencer and Stephanopoulos.
"George just doesn't think Lara brings anything to the show -- she is all fluff and no substance," the insider previously told us.
According to the latest Nielsen ratings, GMA continues to dominate the morning news rating race. For the week ending November 18, GMA beat TODAY by 662,000 viewers.
Our sources are also "very surprised that all of the talents' contracts were up at the same time. This should have been dealt with months ago. If this isn't handled by ABC quickly, it could derail all of the hard work that it took to get to number one and maintain it."