Exclusive
GMA Tension: George Stephanopoulos Missing Robin Roberts, Irritated By Lara Spencer's 'Childish Behavior!'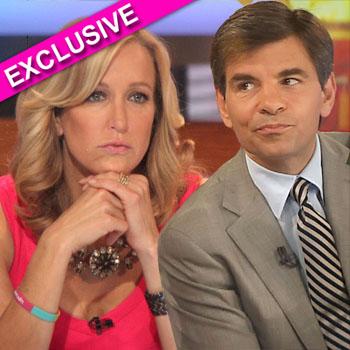 Article continues below advertisement
"Lara has been grating on George's nerves and he is just counting the days until Robin comes back. George's background is hard news and he thinks that Lara just doesn't bring anything to the show."
As RadarOnline.com previously reported, appearing on GMA last month, Robin said she's "incredibly blessed to be doing as well as I am" and that while "it would be a whole lot easier not to be so public when you're going through something like this … it's a privilege to be a messenger."
The inspirational 51-year-old previously said about the procedure in her battle with MDS (Myelodysplastic Syndrome), a blood and bone marrow disorder. "Thirty-five days ago, I had my bone marrow transplant. It is a journey."
Robin also said she "can't wait to come back" to the top-rated show.
"I want to be back on that couch with those froggy slippers," Robin said. "It's just about understanding the moment. Why I am here now."
Article continues below advertisement
As for rumors that Stephanopoulos doesn't get along with GMA news reader, Josh Elliott, "that is just absolutely false. There are no issues between Josh and George. Lara knows she gets on George's nerves and she doesn't really care. She isn't going to change who she is," the source says.
RELATED STORIES:
Robin Roberts Makes Special Plea On GMA To Help Victims Of Hurricane Sandy
Good Morning Robin! Roberts Masks Up & Braves Post Sandy NYC For Check Up