Robin Roberts Makes Special Plea On GMA To Help Victims Of Hurricane Sandy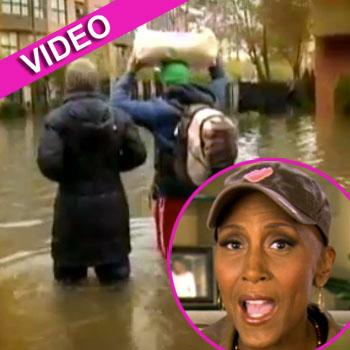 Robin Roberts again took a time-out in her recovery from a bone marrow transplant to lend her presence to Good Morning America Monday as part of ABC's Day of Giving fundraiser to benefit the victims of Hurricane Sandy.
The brave 51-year-old broadcaster delivered an impassioned plea to viewers, via video, to help victims of the East-Coast superstorm in a video broadcast on the top-rated morning program.
Article continues below advertisement
"It was so difficult for me to follow doctor's orders and stay here at home last week," Robin said. "Like so many I felt helpless watching all those people, all those families, impacted by Sandy. I know what it's like to see your hometown virtually wiped out because I remember the day after Katrina, Hurricane Katrina, being there my beloved home state of Mississippi, walking in the rubble. The coastline unrecognizable. Family members were displaced for months. It took over a year for us to get back in the family home."
She continued, "I also vividly remember so many people coming up to me and asking me the same question: 'Does the rest of the country know?' 'Do they know what happened to us?' 'Does anyone care?' And that is why today, this 'Day of Giving' is so meaningful.
Watch the video on RadarOnline.com
"Please give whatever you can, any amount is greatly appreciated. If you can't make a donation, please consider giving in other ways. Your time, volunteering, taking a moment to say a prayer, sending positive energy, positive thoughts to all those that have been affected by Sandy. Let them know we care by giving whatever we can. Bless you and thank you."
MORE ON:
Good Morning America
Article continues below advertisement
Appearing on GMA last month, Robin said she's "incredibly blessed to be doing as well as I am" and that while "it would be a whole lot easier not to be so public when you're going through something like this … it's a privilege to be a messenger."
Other celebs to join in GMA's Day of Giving include Snooki, Michael Douglas, Ben Stiller, Katie Couric and Barbara Walters.