Robin Roberts Resting At Home After Being Hospitalized Last Week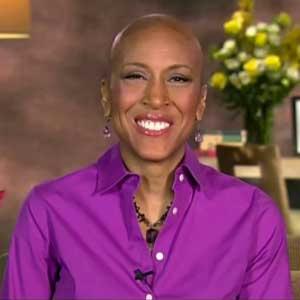 Good Morning America's beloved co-host Robin Roberts is home resting this week after being re-admitted to the hospital last week after falling ill while on vacation, but she's reassuring fans that she's OK and will return to the popular ABC morning program next week.
Roberts, 52, posted the following message on her Facebook page early Thursday morning:
My heart continues to go out to the remarkably strong people of Boston. We stand by you now and always.
Article continues below advertisement
It saddens me that I haven't been able to join my colleagues in covering this important story.
Last week, in the middle of my Key West vacation, I began not to feel well. Nothing serious, just under the weather. I contacted my doctors and flew back to NYC. They felt it best to admit me into the hospital for a few days. Seems my young immune system needed a little boost to fight off "opportunistic infections".
My doctors assured me that this was NOT because I was working or doing too much, too soon. It's extremely common, post bone marrow transplant, to have complications. I'm blessed that mine have not been severe.
I'm feeling MUCH better, and will relax at home for the rest of the week. I'll be back on GMA next week...as my sweet momma would say: "Good Lord willing and the creek don't rise!"
As RadarOnline.com has previously reported, Roberts returned to GMA – which is now a solid # 1 over the TODAY show -- on February 20 after a 174-day hiatus following a bone marrow transplant last September.
Fun fact: Robin, according to the NY Times, is "the most-liked host on any American morning news show by a wide margin," based on industry research.