Exclusive
Diane Sawyer Vetoes George Stephanopoulos As Her Replacement On 'World News'… If And When She Leaves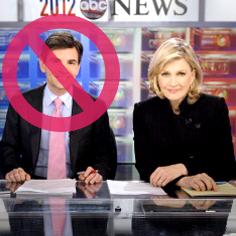 Even though Diane Sawyer doesn't have any immediate plans to retire from anchoring ABC's World News, the respected journalist has been telling network executives that she doesn't want George Stephanopoulos to get the gig, and has instead suggested the next anchor be David Muir, who already anchors the weekend edition, RadarOnline.com is exclusively reporting.
"Diane has been telling her bosses in the news division at ABC that George would be a terrible replacement for her when the time comes for her to hang it up. She doesn't think viewers in primetime like his interviewing style, and the tone of his delivery. He can come across as very condescending," a network source told Radar.
Article continues below advertisement
"The only suitable replacement in Diane's opinion is David Muir. They are very close friends, and Diane has taken David under her wing, and truly mentored him. She has become one of his biggest champions and supporters. David has been the anchor of the weekend edition of World News, and he frequently substitutes for Diane. When George fills in for Diane, the ratings actually go down, and you can't argue with the numbers."
It's a precarious time for former President Bill Clinton's press secretary because Stephanopoulos' contract is up in January, and he wants to ditch Good Morning America for primetime.
"He has made no secret that he no longer wants to do morning television. George wants to replace Diane Sawyer when she decides to hang it up, but who knows when that will be? His strengths are doing hard news, and has been extremely successful as the host of the ABC's Sunday morning show, This Week," a source previously told Radar.
MORE ON:
Good Morning America
Article continues below advertisement
According to the latest Nielsen ratings, GMA continues to dominate the morning news rating race. For the week ending November 18, GMA beat TODAY by 662,000 viewers.
Radar's sources are also "very surprised that all of the talents' contracts were up at the same time. This should have been dealt with months ago. If this isn't handled by ABC quickly, it could derail all of the hard work that it took to get to number one and maintain it."