Meow! Amy Robach Slams 'Shameless Flirt' Lara Spencer -- Inside Their 'GMA' Girl Fight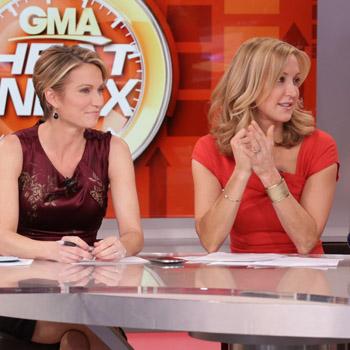 The claws are still out on the set of Good Morning America! Although feuding co-hosts Amy Robach and Lara Spencer recently pretended to make nice during a public lunch date, RadarOnline.com has learned that behind the scenes, the cat-fighting continues. And now, only RadarOnline.com can reveal the reason: Robach thinks Spencer is a huge flirt!
An insider reveals, "Among the gripes Amy has with Lara is that she shamelessly flirts with the male staff and guests. It's cringe-worthy, according to Amy, and she hates to see it."
Article continues below advertisement
"With Michael Strahan about to join the show, Amy is preparing for even more of an ick factor," the source continues. "Lara is a married woman, and it's just unprofessional in Amy's opinion."
In addition, as RadarOnline.com has reported, sources say Robach resents Spencer for blowing Robach off during her cancer battle.
When Robach underwent a grueling double mastectomy earlier this year, "Lara never came to visit Amy in the hospital, or even called her to see how she was doing," the source claims. "Robin Roberts, a breast cancer survivor, helped Amy navigate the complicated maze of what doctors to see, and has been a true friend to her during this time."
After RadarOnline.com reported on the pair's strained relationship, Robach and Spencer were suddenly spotted out to eat together in New York City last weekend, but network sources reveal it was a calculated PR ploy.
"ABC went into crisis mode after the news broke that Lara and Amy hate each other," the insider explains. "The lunch was set up and staged by GMA bosses. When was the last time Lara and Amy had lunch, especially over the weekend? It was all done to try to offset the negative press."
Article continues below advertisement
Scandal has dogged the powerhouse morning show recently, after Josh Elliott decided to ditch GMA for a lucrative sports deal at NBC. Although sources say his bosses were happy to see him go, it was still a shakeup on set.
"Josh is high-maintenance, and if viewers could see what he was like off the air, people would be truly shocked," an insider claimed, adding that the former ESPN reporter is extremely insecure and needs constant validation from his colleagues.
Now, cancer survivor and fan favorite Roberts is holding the dysfunctional ABC morning news team together.
"She is the main reason why GMA is number one, period," the source said. "There was no way ABC was going to let Robin leave when her contract recently came up for renewal. If Josh thinks GMA got to number one because of him, he is totally misguided. The show will continue to dominate in the morning news ratings race, losing him won't change that."
Credited with de-throning TODAY from the number one spot two years ago, executive producer Ben Sherwood also just jumped ship for a huge promotion at Disney, as co-chairman of Disney Media in Burbank.
However, Sherwood was also blamed "for allowing Robin, Josh and Lara's contracts to expire all at the same time," according to an insider.
"With all three coming up at the same time, it made the talks very tough," the source added. "Especially since ABC did so much to keep Robin, making Josh and Lara feel slighted."