GMA Star Amy Robach Says 'I've Sobbed Myself To Sleep' Some Nights Since Breast Cancer Diagnosis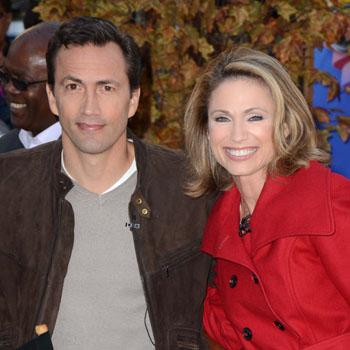 Amy Robach's devastating diagnosis of breast cancer after she hesitated to have a mammogram live on Good Morning America has put an immense strain on her life and she admits that she has "sobbed" herself to sleep some nights since doctors delivered the news to her.
The 40-year-old GMA host has remained upbeat about her frightening prognosis, but admitted that after hearing that she had breast cancer she "burst into tears."
Article continues below advertisement
Putting on a brave face for her children, Robach said she wanted to be "aggressive" in her treatment, having a double mastectomy.
"I want to be at my daughter's graduations, their weddings. I want to hold my grandkids. That just becomes your focus," she told People magazine.
"It's going to be a crappy year, and then I'll be on drugs for probably the next 10 years and there are other issues down the road that we're discussing and we're dealing with. It's about being vigilant and taking care of myself," Andrew Shue's wife said about her treatment plan.
Robach said when it was discovered that the cancer had spread to her lymph nodes she had 13 removed.
"That was the most pain. The breast surgery was painful, but there was nothing like the pain that my arm felt."
Despite being optimistic about her health, Robach admitted that she has suffered through some dark times.
"I'll be honest: there have been a couple of nights where I've sobbed myself to sleep."
Robach was back at work this week at the GMA studio, but has not returned to the air yet.