Angelina Jolie Makes First Red Carpet Appearance Since Revealing Mastectomy, Skips Aunt's Funeral For Brad's 'World War Z' Premiere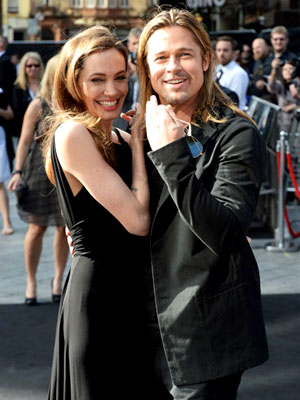 Angelina Jolie received thunderous applause as she walked a red carpet in London Sunday.
It was the actress' first public appearance since revealing that she'd undergone a double mastectomy and reconstructive surgery in a bid to prevent breast cancer.
The event was the premiere of her mate Brad Pitt's movie, World War Z but from the reaction of the crowd, you would have thought Jolie was the star.
And that seemed just fine to Pitt, who never stopped smiling and gazing adoringly at the mom of six.
Article continues below advertisement
The pair wore matching black ensembles, with Angelina in a flattering and flowing floor-lenth gown.
Attending the event meant Jolie had to skip the funeral of her beloved aunt, Debbie Martin, who died a week ago from breast cancer.
Her battle against the disease -- like Angelina, Martin also carried the BRCA 1 gene -- was one of the motivating factors in Jolie's decision to undergo preventive surgery.