Angelina Jolie To Miss Aunt's Funeral For London Premiere Of Brad Pitt's New Movie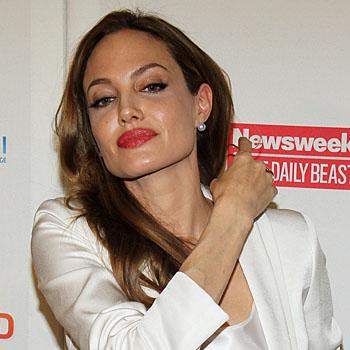 It's been a month of triumph and tragedy for Angelina Jolie, and the best and worst of times continue.
The A-lister will not be able to attend Sunday's funeral in San Diego for her aunt Debbie Martin, who died Sunday of breast cancer, as she's obligated to attend the premiere of partner Brad Pitt's new film World War Z in England.
Debbie's widower Ron told E! the family is "making the final arrangements for the funeral as we speak," and "expect it to be this Sunday at noon at El Camino Memorial in Sorrento Valley near our home.
Article continues below advertisement
"Angelina will be in London on Sunday so she won't be able to attend but she has been in touch with us and with various other members of the family, which has obviously been lovely and has meant a lot to us. Angelina has been in touch throughout the week and her brother Jamie has been with us, giving his support day by day."
He added, "They both loved Debbie very much and although Angie is not able to come right now she has sent her love and support which was very nice."
As we previously reported, Jolie made headlines, and received countless accolades, earlier this month when she revealed she'd undergone a double mastectomy this year, after learning she carried a gene that left her with an extremely high chance of breast cancer. Jolie's mother, Marcheline Bertrand, who was Debbie's older sister, passed away after battling ovarian cancer in 2007.