Brad Pitt Says He Learned To Live In 'A Humble Way' From Former Fiancee Gwyneth Paltrow's Late Father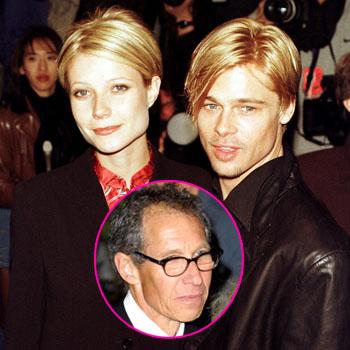 Brad Pitt rarely talks about former fiancée Gwyneth Paltrow in interviews, but he isn't shy about sharing some words of wisdom he got from her late father.
The 49-year-old actor opens up about his life during an extensive interview in the June/July 2013 issue of Esquire, admitting that his one-time potential father-in-law Bruce changed the way he looked at his career and his life – and RadarOnline.com has the details.
Article continues below advertisement
Brad admits to the men's magazine that he lists his occupation as "self-employed" when he is filling out forms.
"I learned that from Bruce Paltrow," he explains. "I always liked it. It's a humble way to explain what we do."
If a stranger on a plane asked him about his profession, he would give them another humble explanation.
"Well, I'd be very Midwest about it, very Missouri," Brad said.
"I'd say, This and that. I'd say, I'm a dad just like you."
In the interview, Brad also opens up about his drug life before Angelina Jolie, which many speculated was during the time period he was married to Jennifer Aniston.
"For a long time I thought I did too much damage – drug damage. I was a bit of a drifter," he admitted.
"A guy who felt he grew up in something of a vacuum and wanted to see things, wanted to be inspired. I followed that other thing. I spent years expletive off. But then I got burnt out and felt that I was wasting my opportunity."