Exclusive
Another 'GMA' Goodbye? George Stephanopoulos In Contract Stand-Off -- 'If ABC Doesn't Step Up, He Will Be Out'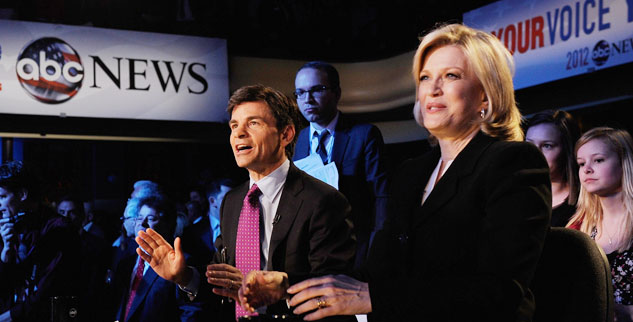 Article continues below advertisement
George's current contract talks with ABC News "are a mess," an insider reveals, "because he wants assurances in writing that he will be named as Diane's replacement on ABC World News. In return, he would agree to continue to anchor Good Morning America until Diane decides to step down."
However, the brass at ABC are kicking back and refusing to make a guarantee about Diane's replacement, according to the source.
"This is partly because David Muir, who currently anchors ABC World News Weekend, is being groomed to take her place," the insider says, and Stephanopoulos isn't happy about it.
"George feels that he has contributed so much to the network, and was a crucial player in dethroning the TODAY show two years ago," the source explains. "Being the moderator for ABC's This Week isn't going to cut it anymore for him. He will leave if ABC doesn't meet his demands."
Article continues below advertisement
Unfortunately, he doesn't exactly have an ally in Sawyer. As RadarOnline.com exclusively reported last year, Sawyer has been openly lobbying network bosses to replace her with Muir when she leaves.
The source continued, "The only suitable replacement in Diane's opinion is David Muir. They are very close friends, and Diane has taken David under her wing, and truly mentored him. She has become one of his biggest champions and supporters. David has been the anchor of the weekend edition of World News, and he frequently substitutes for Diane. When George fills in for Diane, the ratings actually go down, and you can't argue with the numbers."
So now, Stephanopoulos and ABC are locked in a stalemate. "George has made no secret that he no longer wants to do morning television," the insider explains. "His strengths are doing hard news, and has been extremely successful as the host of the ABC's Sunday morning show, This Week. However, viewers also love George on GMA, and the news division doesn't want to rock the boat with replacing him on the show. A huge portion of George's contract talks will involve guarantees that he be the heir apparent to replace Diane."
Article continues below advertisement
It's a very tumultuous time at ABC, as GMA has lost beloved weatherman Champion to The Weather Channel, which is owned by NBC, and Josh Elliott to the sports division at the peacock network.
Adding fuel to the fiery atmosphere, RadarOnline.com has revealed that GMA co-hosts Lara Spencer and Amy Robach openly despise each other.
"Amy doesn't get along with Lara at all, and can barely stand to be on the set with her," a source told RadarOnline.com. "According to Amy, Lara is a total airhead, and doesn't have a strong journalism background that merits her being a part of Good Morning America. Amy is no-nonsense, very serious journalist. Lara is the opposite; Amy wishes Lara would go back to reporting for Entertainment Tonight."
Making matters worse, after a recent breast cancer diagnosis, Robach underwent a grueling double mastectomy, and is undergoing chemotherapy, while continuing to work.
During this time, our source said, "Lara never came to visit Amy in the hospital, or even called her to see how she was doing; Robin Roberts, a breast cancer survivor, helped Amy navigate the complicated maze of what doctors to see, and has been a true friend to her."
The top-rate yet dysfunctional morning news program "is absolutely in crisis mode right now," the insider explains. "So much money was given to Robin Roberts to extend her contract with ABC, that there are a lot of people that have felt slighted, and this includes George. If ABC doesn't step up, George will be out."