Exclusive
Jackson Kids In Danger? Debbie Rowe's New Fiancé Was Named As Co-Conspirator In MJ Child Molestation Indictment — PLUS His Secret Gay Porn Past Revealed!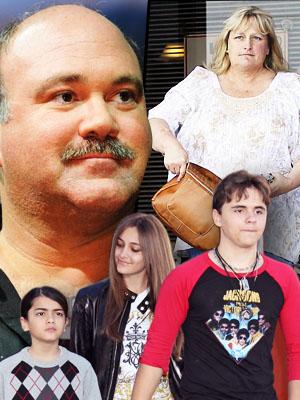 Article continues below advertisement
Schaffel ingratiated himself into Jackson's inner circle in the late 90s, when he was the official videographer at Jackson's Neverland ranch. There, the two men grew so close that Jackson wrote a dedication to him in 2001's "Invincible" album, which read, "Marc Schaffel…Thank you for all your help. I love you."
You Can Sue For That? The 53 Wackiest Lawsuits
Their bond was so tight that despite Schaffel's total lack of music production experience, Jackson handed him the reins to oversee the recording of his 9/11 single "What More Can I Give," and its subsequent music video, later that year.
As Schaffel's relationship with Jackson came under the spotlight, however, L.A.- based private investigator Paul Barresi took notice — and recalled that Schaffel had a sleazy past in skin flicks as well!
Under the name "Marc Frederics," Schaffel directed dozens of porn videos throughout the 80s and 90s, including Cocktales (1989), Man with the Golden Rod (1991), Every Last Inch (2000), This Is Huge (2000) and Mansized, aka Power Drivers (1999).
Article continues below advertisement
Shocking Evidence Found In Michael Jackson's Bedroom Where He Died – See The Photos
In addition, Barresi was in possession of a vide clip he had of Schaffel on a Hungarian film set with two very young-looking boys. After initial attempts to meet with Jackson's camp about the tape were rebuffed, according to the book Hollywood, Interrupted by Andrew Breitbart and Mark Ebner, Barresi says he went to the authorities. According to the report, he claims he gave a copy of the tape to the Juvenile Crimes Division of the LAPD and the FBI in late 2001, in the hopes that they would put Schaffel "under investigation for child pornography."
No such investigation materialized, but Schaffel's porno past soon came to light and the single he was working on with Jackson was quickly scrapped.
"It's no secret that my background is in the adult film business," Schaffel insisted at the time. "I don't keep anything in my life hidden."
Ensuring that all his dirty secrets were out in the open, Dateline aired the footage of him with the two young men but dismissed the scandal as "bad judgment" on Jackson's part.
Article continues below advertisement
And by July of 2002, Jackson's camp was publicly disowning the former gay porn king. Jackson's rep, Dan Klores, told USA Today in July 2012 that Schaffel "has had no relationship with Michael Jackson. The minute Michael and his advisers found out about Schaffel's background, they cut the cord immediately. This was months ago. Schaffel has nothing to do with Michael Jackson … and has been told this repeatedly by Michael's attorneys."
But unfortunately, Jackson hadn't seen the last of Schaffel, and vice versa. Two years later, when Jackson was indicted for child abuse, false imprisonment and felony extortion, Schaffel was named as one of his co-conspirators who "did conspire with Jackson … To commit the crimes."
According to a copy of the indictment obtained by RadarOnline.com, Jackson was accused of "willfully unlawfully and lewdly committing a lewd and lascivious act upon and with the body and certain parts and members thereof of John Doe, a child under the age of fourteen years, with the intent of arousing, appealing to, and gratifying the lust, passions, and sexual desires of the said defendant and the said child.." among other things.
Article continues below advertisement
First Photos Of Paris Jackson Since Suicide Attempt — Her Remarkable Recovery At Boarding School
Jackson was later acquitted of all charges, and Schaffel was never charged, resulting in his name being redacted from the officially filed documents.
But another lawsuit that year, brought by Schaffel against Jackson, exposed just how enmeshed he was in Jackson's life and affairs.
Schaffel sued Jackson in 2004 for $4 million he claimed the pop star owed him for unpaid loans, cash advances, producing fees, and other expenses, including money to "pay Marlon Brando to appear at Jackson's concert," and to "buy jewelry for Elizabeth Taylor."
He also claimed during the trial that he had made a $300,000 delivery to mysterious South American businessman "Mr. X" on Jackson's behalf, and said on the witness stand that Jackson had once asked him to find boys to adopt there.
A jury awarded him $900,000 and Jackson got $200,000 in a cross complaint.
Rowe has said she met Schaffel when he was working for Jackson, so it's likely she's fully aware of his past.
Article continues below advertisement
Do you think he's a good match for her, and a good stepdad for her kids,Prince, 17, Paris, 16, and Blanket, 12? As RadarOnline.com has reported, she recently launched a bid to get custody of the kids. Let us know in the comments!
UPDATE:
Barresi tells RadarOnline.com exclusively, "I gave the video tape to the FBI, and the LAPD and yes, they did investigate. The article makes it sound like I tried to give it to Jacko's people and after they were hard to reach, I gave it to the authorities. Fact is I did give it to Jacko's attorney and then a quick firing according to the P.I. Mason was supposed to happen. Evidently it did not."
"November 19, 2001, the day I conducted the interview with Schaffel's former employer David Aldorf, he handed me a video tape of a porn shot in Budapest, in which Schaffel himself is seen and heard walking into frame directing a young male of questionable age on how to pose," he claims. "Aldorf alleged the boy was a minor. After the interview, I turned copies of the attached transcribed interview I conducted with Aldorf as well as copies of the video in question to the FBI, S.A.F.E. (Sex Assault Felony Enforcement) Team and the Los Angeles Police Department. I also turned a copy of the video to Zia Modabber, Jackson's lawyer, and Jackson's private investigator, Eric Mason."