Exclusive
Miss America Pageant Preliminary Sponsor: Moonlights As Porn Star & Runs Gay Porn Websites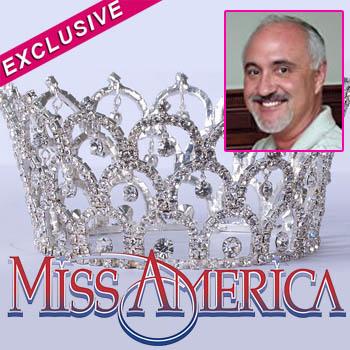 By Amber Goodhand - RadarOnline.com Reporter
The Miss America pageant stands for the empowerment of women, traditional values and wholesome entertainment, but RadarOnline.com has exclusively learned that one of the main sponsors for the California preliminaries moonlights as a porn star and runs gay porn websites.
Ric Alonso and his partner of 21 years, Ernie Koneck, are both highly involved in the Southern California Scholarship Association — a nonprofit that produces the Miss Hollywood pageant, which is an official preliminary to Miss California and Miss America.
Article continues below advertisement
But RadarOnline.com has discovered that Ric goes by the pseudonym Jake Cruise, a gay porn star and producer that owns three hardcore adult websites.
"My movies are not your typical gay porn. I'm in a lot of the movies," Ric says on one of his porn sites.
"As you can see I'm your average middle aged gay man who likes to have fun with hot guys of all ages... One thing I strive for is that we all have fun while having sex."
In 2011 Ric was named as the first of the organization's major scholarship donors, and his partner Ernie sits on the board and is the Executive Director.
Ric and Ernie also own EKRA Group Inc. and a web design company called Dancing Moose Interactive that is responsible for designing the Miss California website.
As if the pageants aren't direct conflict enough with Ric's career in porn, he also launched a multi-faith website in 2000 devoted to "prayer launches" called PrayersOnTheWeb.com, which no longer exists.
Article continues below advertisement
"I really love the 14 or so years I've been involved with Miss America at the local and state level," Ernie states on his Facebook page.
"And love seeing what involvement in the program can do for the participants."
RadarOnline.com reached out to the Southern California Scholarship Association for comment but got no response.
RELATED STORIES:
First Openly Gay Contestant Competing In California Beauty Pageant