Exclusive
EXCLUSIVE CHILDHOOD PHOTOS: Miss America Teresa Scanlan Was Born To Be A Beauty Queen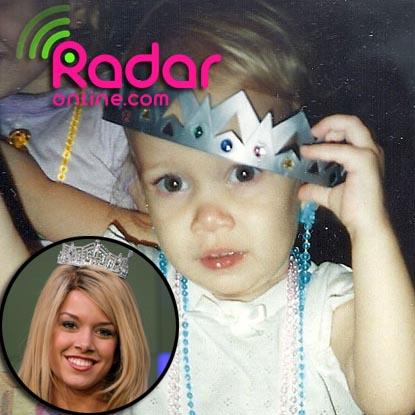 Some girls blossom into beauties as they grow older, whereas others are just born with it -- case in point, Teresa Scanlan.
The Nebraska teen, who was crowned Miss America 2011 on Saturday night in Las Vegas, was an absolutely gorgeous baby, and RadarOnline.com has the exclusive pics to prove it.
In one of the pictures, young Teresa, now 17, from Gering, Nebraska, was fulfilling her destiny even though she was still in diapers as she placed an over-sized silver crown on her own head.
Article continues below advertisement
As a little girl, Teresa already had the warm smile, blond curls and sparkling eyes that melted the pageant juges' hearts.
CHILDHOOD PHOTOS: Elizabeth Kitt and Jesse Kovacs
Teresa was winning beauty pagents before she was out of braces, when she was first crowned at the Scottsbluff County Fair in 2006.
Her pretty pink gown, sparkling jewels and air of confidence made her a very mature looking 13-year-old.
Still, despite being old beyond her years, Scanlan made history by being the youngest Miss America winner in 90 years.
The Scottsbluff High School graduate won a $50,000 scholarship that she wants to put towards law school so that she can fulfill her dreams of becoming a politician or a judge.
The curvy teen won over judges with her commitment to bringing awareness to the issue of eating disorders amongst young girls. "We simply can't afford to let this issue go on because millions of girls and boys are out there dying from eating disorders," she said during the competition.
"You can be this successful and you don't have to hurt yourself, you don't have to go to extremes. I never passed up a cookie on my journey here."
Scanlan is actually the second youngest contestant ever to be crowned - coming a close second to 15-year-old Margret Gorman.