First Openly Gay Contestant Competing In California Beauty Pageant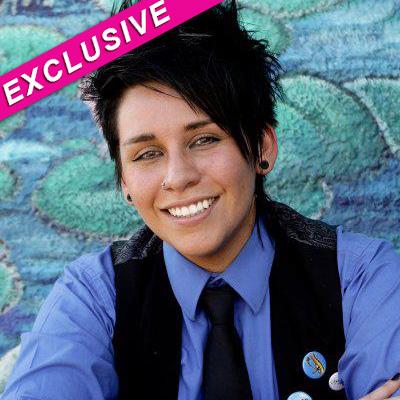 Radar Senior News Director
Jenelle Hutcherson is not your typical beauty contestant pageant – and that's exactly why she decided to enter the Miss Long Beach and Miss Southern California cities pageant this weekend.
In a world where pageant contestants are often blonde, busty, and rail thin, Hutcherson rocks a brown Mohawk, a pierced nose and small black ear plug-ins – and she happens to be a lesbian.
Article continues below advertisement
In fact, when she takes to the runway Sunday, the 25-year-old hair stylist will make history as the first openly gay contestant in the competition's storied 61-year history.
Hutcherson got the idea to enter the competition during a conversation with Justin Rudd, the director of the pageant, while she was cutting his hair at the salon where she works.
RadarOnline.com chatted with both Hutcherson and Rudd to talk about why he urged her to compete and how her involvement marks a watershed moment in the pageant world.
Radar: Jenelle, you're 25 and this will be your very first pageant, how did it come about?
Jenelle: Well, it started with Justin Rudd and an epic conversation last year around the end of October. I always ask him how he is doing and what he is up to being that he is huge within the community of Belmont Shore and Long Beach, he told me about his pageant and I asked how someone like myself could get involved? He was so excited when he said that he would love for me to join, that the colored hair and tattoos were not a problem at all. And I was thoroughly flattered, but one thought stood out in my mind, I said to Justin, " I am not the gown and heels type of girl" it would not make any sense for me to participate. Justin asked me what I felt comfortable in, and I said a Tuxedo, and his reply shocked me! if I wanted to do it, I could compete next year and wear a tuxedo. I believe Justin is very fashion forward and expressed that it is time for a few things to develop to keep up with the times.
Article continues below advertisement
Radar: Justin, as the one who encouraged Jenelle to compete in the pageant, what did you see in her that made you suggest the idea?
Justin: I like to see success in everyone I meet. I like her conversational skills, her charisma, and I love that she has a style and embraces it.
Radar: Jenelle, did you have any doubts at all when Justin's suggested you compete?
Jenelle: I was beside myself and that none of my questions he even thought twice about. He left me with not a single good reason to not participate.
Radar: Jenelle, we're so used to seeing women -- usually blonde, busty, thin and airbrushed -- looking picture perfect in magazines, setting a standard that is impossible to reach. So, like many little girls, did you grow up with a warped sense of what beauty is?
Jenelle: Yes, I never cared much though, I chose to not even try and even at one point didn't care for my health at all, I almost seemed to have an attitude of which I just gave up trying, trying to be something your not is a tiresome battle.
Article continues below advertisement
Radar: When you were younger – in your teens – did you try to achieve that societal definition of what beauty is – or did you always blaze your own trail?
Jenelle: I have certainly always marched to the beat of my own drum, funny looking clothes that I thought was just the most amazing outfit in the world! haha! However, in high school which is a very crucial time in anyone's life was definitely the hardest. I did try to "fit in," but shortly after I then realized it was not working, and that's when I began to re-invent myself but this time for who I was.
Radar: Tell us about the gown you will be wearing in the competition.
Jenelle: Well, haha, my "gown" consists of a pair of pants and a jacket with a classy, but glam-punk, twist that I have tailored and detailed myself. I like to call it a tuxedo. =D
Radar: What about the swimsuit portion of the competition? Will you be rockin' a bikini?
Jenelle: No bikini for me! I will be wearing a 1930's inspired swimsuit my take on both a "mens old fashioned" and the womens parallel of the time.
Article continues below advertisement
Radar: Justin, since Jenelle won't be wearing a traditional gown or swimsuit in the competition, are you bending the rules for her -- or are all the women being given more freedom in choosing what they wear?
Justin: I changed the rules to now say evening wear and swim wear. It's a sign of the times. I mean, how often does anyone wear an evening gown, unless you are a movie star on a red carpet. We should not expect contestants to go buy a gown to wear one time in a pageant. Living in SoCal, I see lots of different types of swimwear on the beach. I want each contestant to have free-reign with their style. So, in our rules we now just leave as, "evening wear" and "swim wear." We don't mind if the ladies have piercings, tattoos, out-of-the-ordinary hair styles or colors. We don't mind if someone did something in their past. We are looking to be a progressive pageant that embraces each for who they are now and for the future. And, we celebrate the diversity that is all around us.
Radar: Jenelle, no doubt, thousands of people will be on hand to watch the pageant. What message do you want them to take away from seeing you?
Jenelle: I want them to remember that beauty is something we see every day and comes from within, and just like what I create every day as an artist in the beauty industry and will represent on stage, a Variety of Beauty. Do not clip your own wings, Love and Believe in yourself first, then spread your wings and Fly!
Article continues below advertisement
Radar: Now this isn't the end of your pageant career right? I hear you plan to take part in Donald Trump's Miss California USA pageant.
Jenelle: I am! I will represent "Downtown Long Beach". I am excited to finally meet Keith Lewis the Director of the Miss California USA. To be a part of such a powerful all-loving message is so humbling, to know that what I am doing is making a difference to many, touches my heart. Specifically, the youth to watch me through this journey and to see it affect their perspective on life is the part that reminds me most why I am doing this, for the youth to believe in themselves.
Radar: Finally Justin, what message do you hope people take away from seeing Jenelle compete?
Justin: I hope others see that anyone with determination and hard work can find success. We will not limit a contestant because of sexual orientation, ethnicity, race, religion, creed, size, or financial hardship.
The pageant is Sunday, November 13 at 6pm at the Grand Long Beach Event Center.
A contestants in the Miss Long Beach Pageant is judged according to her performance in a personal interview (25%), evening wear (25%) and swimwear (25%), with the final 25% of the contestant's score coming from ambiguous criteria (energy, confidence, spider-powers and physical fitness, perhaps) determined by the pageant staff and titleholders.
Article continues below advertisement
The pageant has been held in Long Beach since 1950 and this year will be giving away $24,000 in prize money and contracts to women and girls in various categories (Little Miss, Teen, Miss, Mrs) for the "Long Beach" and "Southern California Cities" titles.
For more information on the Miss Long Beach, click here.