Exclusive
'This Marriage Is About Them Trying To Take Over Michael's Children': British Actor Who Claims He's Paris Jackson's 'Biological Father' SLAMS Debbie Rowe Over Custody Bid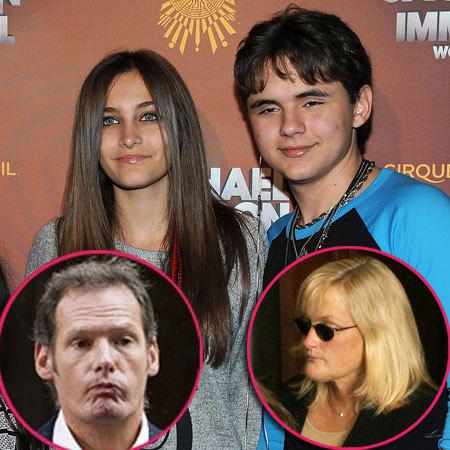 Count former child star and Michael Jackson buddy Mark Lester a skeptic when it comes to the engagement of Jacko's former wife Debbie Rowe and the late "Thriller" singer's ex business partner, Frederic Marc Schaffel.
Lester, who continues to contend that he's the bio dad of Jacko's daughter, 16-year-old Paris, "threw up in his mouth" when he heard about the wedding plans, which he and members of the Jackson family claim is nothing more than a money grab.
Article continues below advertisement
Prince, Paris and Blanket each stand to inherit all of the cash from the estate beginning when they turn 30 years old.
For Lester, though, Rowe's marriage announcement to Schaffel and her subsequent vow to seek custody of the children, are just more obstacles in his five year battle to see Paris.
"There's little doubt that this marriage is not just about them trying to take over Michael's children, but it's another way in which I'm being blocked from Paris," said Lester, who insists that his own daughter, 19-year-old Olivia Lester, is the spitting image of Jacko's princess who is still recovering from a dramatic suicide attempt last year.
Article continues below advertisement
Lester said despite the Jackson family's stand in criticizing Rowe for her vow to fight for custody of Paris and brothers Prince and Blanket, they also have repeatedly ignored Jacko's wishes, which would include allowing Lester to continue an active role in the children's lives.
Prior to the ill-fated "This is It" concerts that were to take place in London in 2009, Lester said he and Jacko had planned to spend "lots of time together. And, as usual, with all of the children," he said.
MORE ON:
Prince Michael Jackson
"Debbie Rowe wasn't included in that, never was. It was just us. Just family," Lester said.
The former "Oliver" star also took a swipe at what he called Rowe's years of lack of willful lack of involvement with Jacko's children.
"I speak to my kids every day," he said. "Do you, Debbie? My family, we were all very close with Michael and the children. She wasn't. During the 'This is It' tour, Michael and I talked about my daughter going up on stage and doing a performance with him, that's how close the family had been. This was truly going to be family time. He didn't even invite his own siblings to do that and he certainly didn't invite Debbie or Marc."
Article continues below advertisement
Former Jacko manager, Deiter Wiesner, laughed off Rowe's and Schaffel's engagement. "It's a good story for a movie," Wiesner said.
Lester said he and Jacko were friends for more than 30 years and that the singer had long experienced fertility issues, debilitating any confidence he had in being able to produce healthy children with his own sperm.
"But, when Michael asked me to give my sperm, I didn't hesitate because it's what he really wanted and it was never about me trying to get something out of it, it was just me being a friend, something that others who are now in the picture trying to take the children, have never really been," he said.
And, while Lester said just spending time with Paris is more important than establishing paternity; he remains open to a DNA test to prove he fathered her!
"As I have said, I just want to reconnect and be what Michael and I had agreed upon, which is that I take care of them as their godfather," he said.