Michael Jackson's Pal Claims To Be Father Of His Kids: 'I'll Take A DNA Test'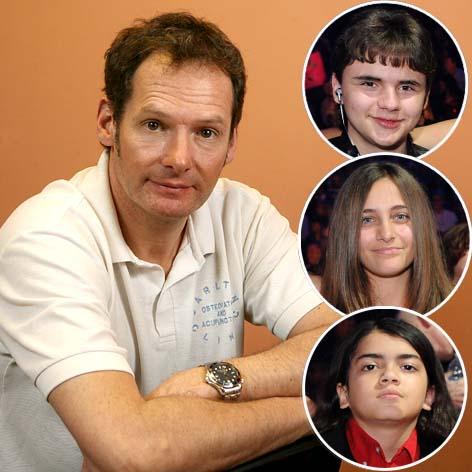 Michael Jackson's best pal is claiming to be the biological dad of his three children and he's willing to take a DNA test to prove it.
Former child actor Mark Lester says he donated sperm to the King of Pop one year before the birth of Prince Michael, 16 and now strongly believes he, Paris, 15 and Blanket 11 are his children.
Speaking to the Daily Mirror, the 54-year-old - most famous for playing the title role in the 1968 version of Oliver! - recounted his friendship with the musical legend and how he approached him with the "strange" request.
Article continues below advertisement
"I remember Michael ringing and saying, 'Oh, you don't have any fertility difficulties do you?'" said Lester, who is the godfather to all of Jackson's kids. "He was half joking so I joked, 'Oh, I just look at her and she gets pregnant.'
"So then in a light-hearted way he said, 'Will you help me out?' Initially I thought he wanted me to do something with his ex-wife Debbie Rowe and I was thinking, 'I don't think so'.
"Then out of the blue about a year later, he mentioned sperm donation and I agreed.
"Michael set it up for me to turn up to a clinic in Harley Street, London to do it. It was weird.
"I went in a couple of times to donate but we never talked about it ever again. It was a really strange request but while Michael was alive I never gave it another thought. I didn't donate to get something out of it."
Lester - who became friends with Jackson in 1978 - says he didn't think about the donation for years but now believes there is a "good possibility" he could be their father.
Article continues below advertisement
"I wouldn't have a DNA test without the children's permission but when the children come of age, and it's not far away, and they decide they want me to do it then I will. It's up to them," said Lester, who says the resemblance between his 18-year-old daughter Olivia and Jackson's daughter Paris is striking.
"I don't want to tell them what to do. I just want to reconnect and be the godfather that Michael made me."
Lester hasn't seen the children since their father's death in June 2009 but he recently issued a heartfelt message saying; "I'm here, come and visit England, we'll look after you."