North Korean Body Count To Rise? Kim Jong Un Orders Execution Of 33 People Tied To Underground Christianity Campaign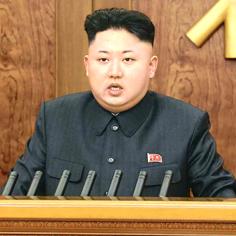 There's new reports of ANOTHER mass execution coming out of North Korea Thursday, where despot Kim Jong Un has called for the deaths of 33 people implicating of conspiring against him and his regime, in trying to start up hundreds of churches in the country where it is outlawed.
The condemned group, reports South Korean media, purportedly worked with South Korean Baptist missionary Kim Jung-wook in an effort to organize a network of 500 secret churches; and are slated to be put to death at the State Security Department.
Article continues below advertisement
Kim Jung-wook was at the center of attention last fall when he was arrested in North Korea accused to trying to erect a set of churches, and spread awareness of Christianity; last week, he said he was contrite for his "anti-state" actions.
"I was thinking of turning North Korea into a religious country, and destroying its present government and political system," said the missionary, who remains incarcerated there. "I received money from the intelligence services and followed instructions from them, and arranged North Koreans to act as their spies.
"And I also set up an underground church in China, in Dandong, and got the members to talk and write, for me to collect details about the reality of life in North Korea, and I provided this to the intelligence services."
While the man said he worked in concert with South Korea to enter North Korea through China, South Korean officials said Kim Jung-wook was kidnapped by North Korean agents in China.