Executions? Firing Squads? Who Cares! Dennis Rodman Returns To North Korea For 'Fun' With Pal Kim Jong Un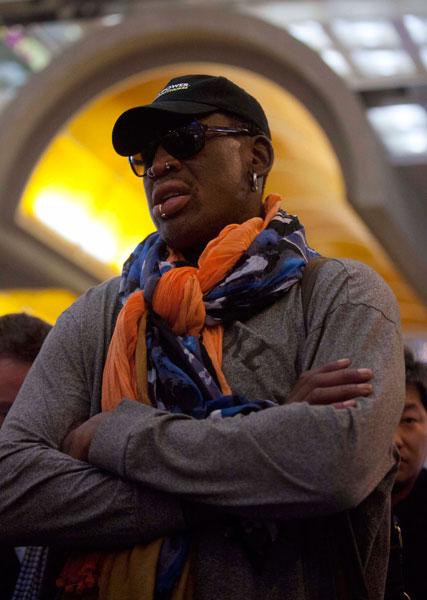 Dennis Rodman is back in Pyongyang, North Korea to visit with pal Kim Jong Un, RadarOnline.com has learned, and the legendary rebounder doesn't seem to pay much mind to reports of grisly executions coming down the pike, the most recent linked to Un's uncle, Jang Song Thaek.
Speaking with reporters in Beijing, "The Worm" said the Thaek execution "has nothing to do with me.
"Whatever his uncle has done, and whoever's done anything in North Korea, I have no control over that. I mean, these things have been going on for years and years and years."
Article continues below advertisement
The former Chicago Bull -- who will help coach the nation's hoops team for four days, and plans to return for more court action next month -- tried to distance himself from reports of murderous behavior on Un's part, saying he's just "going over there to do a basketball game and have some fun.
"I'm just going over there to try and do something really cool for a lot of people, play some games and try to get the Korean kids to play. Everything else I have nothing to do with … sport is so important to people around the world so I hope this is going to engage the American people, especially President Barack Obama."
Rodman, 52, said he's not planning on talking politics with Un -- but won't shy away should the topic come up.
"If it happens that he wants to talk about it, then great," he said. "If it doesn't happen, I just can't bringit up."