North Korea Horror: Kim Jong Un Uncle Executed For Being A 'Traitor,' & 'Worse Than A Dog'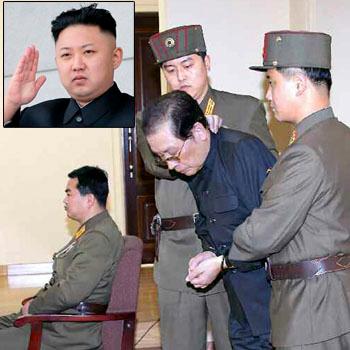 North Korea announced that the country has executed the uncle of their dictator Kim Jong Un, calling him a "traitor to the nation for all ages."
The communist country has said that Jang Song Thaek, who for years was a mentor to the young leader, was accused of leading a "dissolute and depraved life," and had committed crimes including gambling, drug use, womanizing and corruption.
The Washington Post reported North Korea stated Jang was a "despicable human scum," who was "worse than a dog," and that he confessed to his crimes in front of a military Tribunal on Thursday.
Article continues below advertisement
The state news agency KCNA said his crimes also included "attempting to overthrow the state by all sorts of intrigues and despicable methods with a wild ambition to grab the supreme power of our party and state."
Jang was married to Kim Kyong Hui, the younger sister of Kim Jong Un's father.
There have been a series of executions in the country recently, including Kim Jong Un's ex-girlfriend and 11 others in front of a firing squad.