'Everything The Church Taught Me Was A Lie': Leah Remini Reveals Disturbing New Details Of 'Horrendous' Scientology Childhood & Why She Finally Left The Church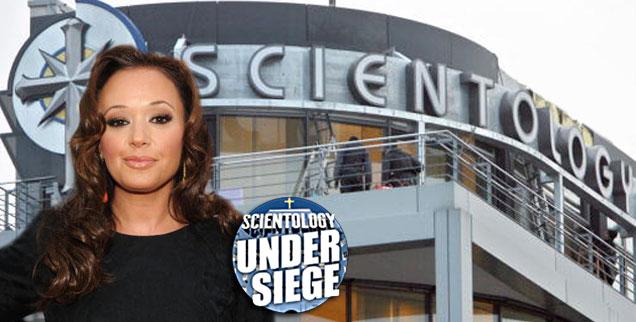 "I'm not about to shut up," Leah Remini warned when she left the Church of Scientology amid whispers of scandal last summer. Now, she's making good on that promise in a blistering new interview that reveals disturbing details of her "horrendous" Scientology childhood, and the moment she discovered that "everything the church had taught me was a lie."
Remini first joined the church as a child, when her parents moved the family from Brooklyn to The Church of Scientology's Clearwater, Florida, campus.
Article continues below advertisement
"We went from a middle-class lifestyle to living in a roach-infested motel with six other girls off a freeway in Clearwater," Remini tells Buzzfeed. "We were separated from our mother. We had to sign billion-year contracts we didn't understand. And we kept saying, 'Why are you doing this to us? Why are we here?'"
"We were working from morning until night with barely any schooling," Remini reveals. "There was no saying no. There was no being tired. There was no, 'I'm a little girl who just lost her father and everything I've ever known.' There was only, 'Get it done.'"
"If the church needed a bathroom wall knocked down, you made it happen," she says. "Because there were heavy repercussions if you didn't. And although that was horrendous for a child to deal with, at the same time, it gave me my work ethic."
Soon after, the family moved to L.A. and Remini began to pursue her dreams of stardom -- while still being an active member of the church. In fact, her mother allowed her to drop out of public school since she was taking "courses" in Scientology.
Article continues below advertisement
"She didn't feel like I was missing out on a real education," Remini explains. "The only thing that mattered was that we were taking courses -- and not taking drugs."
But ironically, it was having her own daughter -- Sofia, 9 -- that first got Remini thinking she might be better off living her life without the church's influence.
"She was getting to the age where the acclimation into the church would have to start," Remini says. "I started thinking of my own childhood and how I grew up resenting my mother because she was never home … she thought she was saving the planet. That's what the church tells you."
Concerned she was spending too much time away from her daughter, Remini says she began talking to friends about making changes, but her approach did not go over well.
"We had a chance to make a change from within but they didn't want to," she claims. "That showed me they didn't actually care, which went against everything I thought we stood for. They only cared that their lives would be disrupted if they stood with me. They didn't care about doing the right thing. That showed me everything the Church taught me was a lie."
Article continues below advertisement
"In the Church, you're taught that everybody is lost," Remini says. "They say they're loving, caring, non-judgmental people, but secretly, they were judging the world for not believing what they believed. To me, that is not a spiritual person. That's a judgmental person, and that is the person that I was. I was a hypocrite, and the worst thing you can be in this world is a hypocrite."
And so, in July 2013, she left Scientology with much fanfare, although the Church said they "could care less" about her departure and subsequent Dancing with the Stars stint.
Now, she says, she's writing a memoir to fully explain her falling out with the Church that was her home for 30 years.
For more details, stay tuned to RadarOnline.com!