Kirstie Alley Threatens To 'Retaliate' Against Leah Remini & Other Scientology Critics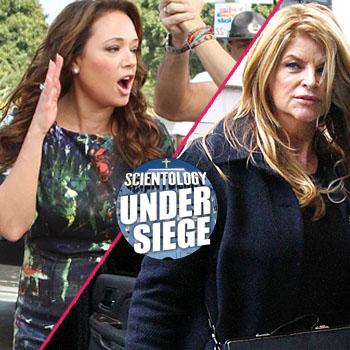 Article continues below advertisement
"This is one of those days when I might just retaliate with the truth…." she wrote on Thursday, followed by a tweet that said, "mean people keep us fueled."
Next, she posted a quote from Oscar Wilde that read, "I have learned this: It is not what one does that is wrong, but what one becomes as a consequence of it."
"Won't be tweeting much in the near future," Alley continued. "Going to strand myself on an island and turn myself into a goddess…Shut up!"
But just four minutes later she broke that promise, writing, "My biggest life lesson has been to learn that evil feeds on goodness. Simple as that …"
Clarifying the target of her rant, the actress retweeted a post from a follower regarding Scientology.
"What did I miss?" user @KimDSykes wrote. "Kirstie r they doing the Scientology thing AGAIN? I kick their a**es if u want me to haha" Alley responded "lol."
This is hardly the first time Alley has used Twitter as her own personal Scientology spokesperson outlet.
In July, she tweeted that Remini's sister Nicole was a "bitch" for her comments against the church.