Drama Behind Scientology Exit: Katie Holmes And Kirstie Alley Wrote 'Reports' About Leah Remini To Church, Sister Claims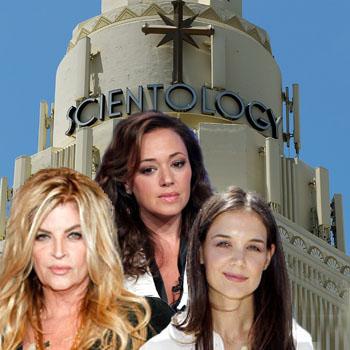 The drama behind King of Queens star Leah Remini's defection from Scientology after 37 years has grown more intense, with Leah's sister Nicole claiming that both Katie Holmes and Kirstie Alley wrote reports to the church about the star.
Nicole, a former Scientologist, has dropped a series of bombshells about why Leah decided to leave the church, as RadarOnline has reported.
In a new interview she claims that both Holmes and Alley wrote 'knowledge reports' to the church about Remini's behavior – behavior that the church viewed as negative.
Article continues below advertisement
The bizarre events behind the scenes at Scientology, filled with A-list star power, are now being described by former members for the first time.
Remini encountered trouble at Tom Cruise's wedding to Holmes in 2006 when she tried to help her friend Jennifer Lopez change her seating assignment.
In a new interview Nicole told former Village Voice editor Tony Ortega that Lopez asked Leah to see if she could help get her seat changed.
"She wanted to sit with Leah, and so Leah went to make it happen," Nicole said. But a Hollywood publicist "took exception to Leah's request and complained to Katie Holmes and Tom Cruise that Leah was causing a scene," Ortega writes that Nicole told him.
"Later, Leah asked other people at the event if she had caused a scene and they said she hadn't, Nicole says."
Nicole says Leah told a Scientologist friend what happened and the friend submitted a report to the church, taking Leah's side.
Article continues below advertisement
That led to four people – including Holmes – writing 'knowledge reports' to the church about Leah and the "incident," claims Nicole.
"They wrote that Leah was an embarrassment to Scientology," Nicole says. "They said she ruined the wedding. All she did was ask to change her seat."
Nicole has previously claimed that Leah's questioning of why church leader David Miscavige's wife was not at the wedding and is rarely seen in public also caused the church to come down on her.
When Leah returned from the wedding in Italy the church told her to go to Scientology's spiritual headquarters in Clearwater, Florida, Nicole told Ortega, adding Leah thought she would be moving up on the ladder that is part of the religion.
But far from spiritual enlightenment, Leah was put on "a brutal combination of sec-checks and something called 'The Truth Rundown,'" Ortega writes from Nicole's interview.
Article continues below advertisement
"She didn't get to go to OT 7," Nicole said of Leah's time in Florida and attempt to progress in the religion. What's more, "after three months, they charged her $300,000," Nicole says.
And Leah's older sister also claims that Kirstie Alley filed a 'knowledge report' about Leah years later.
In 2011 Paul Haggis left the church, leading to a major magazine article about his objections to certain church practices.
Leah "reached out" to Haggis on Twitter, says Nicole.
"This time, however, it was Kirstie Alley who turned Leah in, writing a Knowledge Report about Leah's Twitter interaction with Haggis," Ortega writes, based on Nicole's interview.
"Nicole says Leah found out about Alley's report from an ethics officer (of the church)."
Now tensions are simmering just below the surface between Alley and Nicole, with Alley sending out cryptic tweets claiming "a lie is being perpetuated."
Article continues below advertisement
She has not named Leah or Nicole but Nicole has slammed Kirstie for her behavior toward Leah.
The storm surrounding Leah's departure from Scientology shows no signs of lifting.
In various comments to RadarOnline.com, a spokesperson for the church has attacked Ortega, accusing him of being an anti-Scientology crusader.
But Nicole has been a harder target for the church, because she grew up as a Scientologist and when she left years ago she did not publicly bash it.
A Scientology spokesperson issued this statement to RadarOnline.com about Nicole and her claims from the Cruise wedding plus other charges that Scientologists have been told to "disconnect" or break ties with Leah:
"The statements by Ms. Remini-Wiskow are absurd. Considering how big a wedding it was and her sister's comments published in the media about what a good time everyone had, it is pretty unbelievable this is the story being told. Further, she hasn't been in the Church since 2005, has no personal knowledge of any events described and knows firsthand that her own sister did not "disconnect" from her. Contrary to myths spouted by… anti-Scientologists, the Church cannot and does not "order" any parishioner to disconnect. Such a decision always has been and remains a deeply personal choice made entirely by the individual. This has been spelled out clearly on our website for years."
Scientology also claims that Miscavige's wife is still around, fine and active in the church.