Tom Cruise Makes High-Profile Visit To Scientology's Florida HQ In The Face Of New Attacks On The Church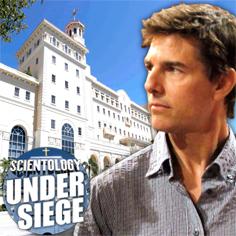 Article continues below advertisement
Tom made his appearance in the front row of a recent Scientology graduation ceremony, according to an email from inside the church obtained by Scientology watchdog Tony Ortega.
Clearwater, the longtime home base for the church, "is where you will find the largest collection of VIPs and hardcore Scientologists," the email, from Danish recruiter Niels Kjeldsen to recently departed Scientologist Anette Iren Johansen, reads. "The last graduation had Tom Cruise take my seat in the front row."
Johansen told Ortega, "I was surprised that Tom cruise showed up … I thought he would keep a low profile."
She added, "Since the hardcore Scientologists are there, he's probably looking for a girlfriend."
And while Tom has reportedly been scouring the ranks of Scientology for a new mate, former Scientology spokesman Mike Rinder says his visit was actually orchestrated by church leader David Miscavige as he tries to save the church from total implosion.
"The smoke Miscavige has been blowing is getting very thin," Rinder said, "and so he has to come up with 'bigger and better.' The extent of how over-the-top he is making his next Greatest Show on Earth directly reflects the level of desperation he feels. Things are at Defcon 1."