Leah Remini Makes Anti-Scientology Statement — Snapped Reading Church Defector's Tell-All Memoir About Tom Cruise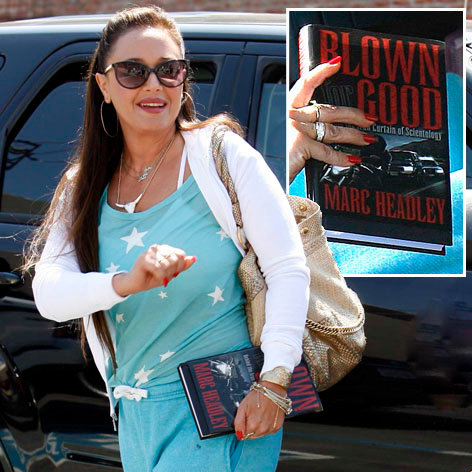 Leah Remini's is making yet another statement -- whether intended or not -- about the Church of Scientology.
Once a close pal of Tom Cruise and Katie Holmes, the Dancing with the Stars contestant is now learning, for the first time, about life behind the iron curtain of Scientology — and telling the world she is doing it.
On Friday, the ex-King of Queens sitcom star — who dramatically defected from the church in July — was photographed clutching Blown For Good, a tell-all memoir by Marc Headley, the former Scientologist and Sea Org member, as she arrived at a practice session for the ABC show.
Article continues below advertisement
Why is this telling?
Headley's book, released in 2009, provides a remarkable account of his 15 years as an employee at Scientology's formerly secret international headquarters east of Los Angeles, including how Cruise practiced auditioning on him!
"Cruise was going to do his auditor training and he needed someone to audit and this person had to be low on the bridge. That was me," Headley writes in the book. (The Church has said it "would not confirm or deny" Headley's description of his experiences practicing the Scientology auditing technique with Cruise.)
Headley is a controversial figure in the eyes of Scientology. He and his wife Claire unsuccessfully battled the church in state and federal court in California for three-and-a-half years over claims of unfair labor practices, forced abortion and human trafficking claims.
They are also outspoken about Scientology's auditioning of actresses in 2004 to date the church's most famous believer, 51-year-old Cruise.
MORE ON:
Dancing With the Stars
Article continues below advertisement
Best-selling biographer Andrew Morton, author of Tom Cruise: An Unauthorized Biography, wrote how Headley rounded up Scientology actresses like Erika Christensen, Erica Howard and Sofia Milos before settling on Holmes.
"They were looking for a woman who would accept the teachings of Scientology, but who would also look good on Tom's arm — and not make too many waves," Morton wrote.
Said Headley: "They had to look outside the herd, so to speak. They went for Jennifer Garner, Scarlett Johansson and Jessica Alba, in that order. Jennifer and Jessica didn't bite, but Scarlett… came in for an audition.
"When she arrived at the address and found out it was the Scientology center in Hollywood, she freaked out and didn't do a tape."
Finally, the Scientology casting crew hit on Holmes, then 26, according to Morton. (Cruise has labelled claims of auditioning as "tired old lies" -- "long, boring and false.")
For Remini, 43, Headley's account of his 15 years in the church is bound to provide an eye-opening experience for someone who was a devout believer until her decision to break.