'You're Too Good To Talk To That Bi**h!' Scientologist Kirstie Alley Advises Stacy Francis In Battle Against Leah Remini & Her Sister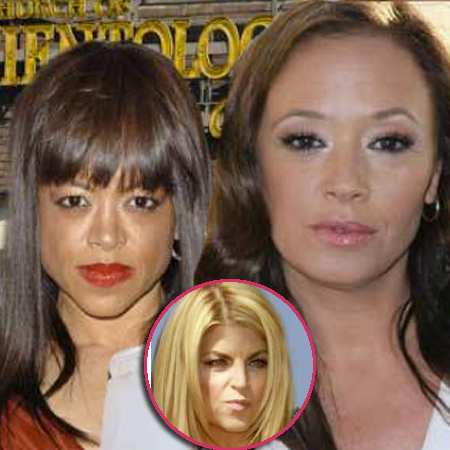 Kirstie Alley and Stacy Francis are continuing to wage war on Leah Remini in the wake of the former King of Queens star leaving Scientology and her sister, Nicole Remini-Wiskow, speaking openly about the entire family's decision to break with the controversial organization.
"You're too good to talk to that b**ch..tune her..block her..don't give her her 15 minutes of fame to spew her hate xxo," Kirstie tweeted to the singer following Nicole's comments about Stacy.
Article continues below advertisement
The one-time The X Factor contestant continued on that topic with a vengeance on Sunday, with numerous tweets.
"I know I shouldn't let the lies being written bother me bcuz that is what evil ppl want but I lose sleep and it hurts it really does."
And minutes later, she wrote:
"It's so crazy and I don't want to speak out because it feeds into the nonsense. I mean really can I just sing! This is all sooooo stupid!"
And...
"Evil is real. And I have to say whenever I give into God and whatever He wants me to do o (sic) get attacked by the enemy."
From Thetans to Xenu! Seven Things You Didn't Know About Scientology
Former Village Voice editor Tony Ortega broke the news of Leah's departure from Scientology and his in-depth interview with her sister Nicole provided never-before known details of Leah's life in the religion.
For her part, Kirstie is asking for more support, tweeting -- with just a hint of sarcasm -- "dear haters can you please jump faster and louder on my tweets ?!? You're falling behind"