Exclusive
Scientology 'Mean Girls' Kirstie Alley & 'The X-Factor' Star Stacy Francis Team Up Against Leah Remini, Her Sister Claims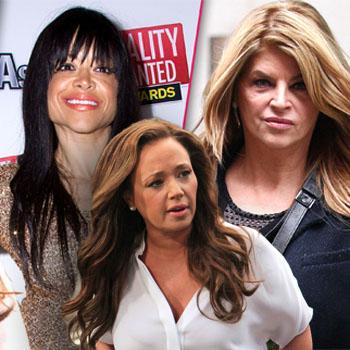 Article continues below advertisement
As RadarOnline.com reported, Scientology critic Tony Ortega claimed that Kirstie hosted a Scientology crisis meeting at the home of Melinda Brownstone.
From Thetans to Xenu! Seven Things You Didn't Know About Scientology
On Tuesday, Stacy then retweeted Kirstie's post insisting her tweets about being betrayed by a friend were not about Leah.
Leah's sister responded on Twitter, writing: "We know this girl who will have a show about being a Christian in Hollywood. Yet, she is siding with people who acting sic in evil. Interesting." (Stacy has said she is in the "beginning stages" of filming a reality show.)
Stacy then responded with "nasty things on Twitter" in a Mean Girls like barrage, Nicole says.
Stacy deleted the tweets, but in messages recovered by RadarOnline.com, she writes, "People are so shady!! Say it if you got the nerve! Say it! don't be cryptic!! Get the balls to say it to me! AND!ONLY IF YOU KNOW THE TRUTH!...DON'T BE A SHIT STARTER @nicoleremini YOU BETTER NOT BE TWEETIN ABOUT ME! Oh and nice you are friends again with your OWN SISTER Don't do it...DEAR SELF>>>>>>GO TO BED! Dealing with bulimic crazy people won't help you tonight."
Article continues below advertisement
"Like, really?" Nicole says..."Wait a minute Stacy. We were the only ones that stood by you when your family and friends all abandoned you when you got pregnant by that mysterious man whose name we're not supposed to mention." Stacy's baby daddy is Bishop Noel Jones, as RadarOnline.com has reported.
"Leah gave her money," Nicole claims. "When Stacy wanted to be on The X Factor Leah set that up for her. My sister let her back into her life and all of a sudden she goes and writes this nasty tweet."
"Leah is not the type of person to cause trouble like that," Nicole says, and she's shocked to see former friends go by the wayside. "We had no idea it was going to be like this."