It's War! Kirstie Alley Slams 'Whopping Lie' -- After Leah Remini's Sister Criticized Her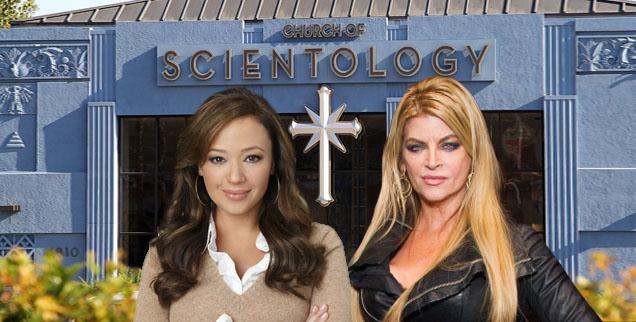 Ever since Leah Remini left the Church of Scientology, the battle lines have been very clearly drawn.
Leah's sister Nicole spoke out to blast the Church and its members, including "nasty" Kirstie Alley. But Kirstie is not going down without a fight. Nicole tells RadarOnline.com exclusively, "Kirstie has not reached out to Leah at all... Everything that's being tweeted is insanity."
On Wednesday, the ex-Cheers star took to Twitter hours after Nicole's interview to hint that a response was coming.
Article continues below advertisement
"Need ur opinion," she tweeted after Nicole's radio interview aired. "IF there was a whopping lie about U floating around, would U make statement or let it pass? I'd appreciate your views. : )"
Shortly after Leah announced her defection, Kirstie had posted angry tweets about being betrayed by a friend, who many assumed was Leah, but Tuesday she insisted she had done nothing wrong and was being smeared in the press.
From Thetans to Xenu! Seven Things You Didn't Know About Scientology
"…I do NOT care what religion ANYONE is or isn't," she claimed in a tweet. "I respect religions & would fight for your freedoms as well as mine."
According to Nicole, that's just lip service. She tweeted Tuesday, "Maybe the so called friend 'Kirstie' should have checked in on her friend to see what was happening & check on Le b4 she got nasty."
Article continues below advertisement
Alley has cryptically denied some aspects of stories about her problems with Remini but has not denied Nicole's charges about turning her back on Leah and that they are not speaking.
In a statement responding to Remini's sister's statements, the church told Radar: "The statements by Ms. Remini-Wiskow are absurd. Considering how big a wedding it was and her sister's comments published in the media about what a good time everyone had, it is pretty unbelievable this is the story being told. Further, she hasn't been in the Church since 2005, has no personal knowledge of any events described and knows firsthand that her own sister did not "disconnect" from her. Contrary to myths spouted by... anti-Scientologists, the Church cannot and does not "order" any parishioner to disconnect. Such a decision always has been and remains a deeply personal choice made entirely by the individual. This has been spelled out clearly on our website for years."
Audio from interview on myTalk 107.1 Radio/Lori and Julia Show:
https://media.radaronline.com/brand-img/wp-content/0x0/2013/07/1373947138-nicole_remini_loj_interview_excerpt_1.mp3
https://media.radaronline.com/brand-img/wp-content/0x0/2013/07/1373947867-nicole_remini_loj_interview_excerpt_2.mp3
https://media.radaronline.com/brand-img/wp-content/0x0/2013/07/1373948350-nicole_remini_loj_interview_excerpt_3.mp3
https://media.radaronline.com/brand-img/wp-content/0x0/2013/07/1373948898-nicole_remini_loj_interview_excerpt_4.mp3
https://media.radaronline.com/brand-img/wp-content/0x0/2013/07/1373949100-nicole_remini_loj_interview_excerpt_5.mp3