Kirstie Alley Furious At Leah Remini For Dumping Scientology, Claims Report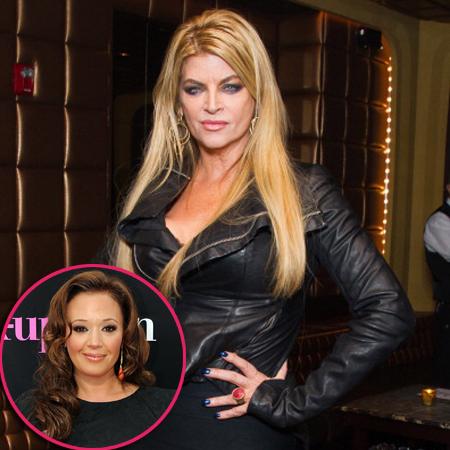 King of Queens star Leah Remini's decision to leave Scientology infuriated Kirstie Alley who questioned church executives about what they were going to do about the situation, claims a new report.
Alley is one of Scientology's high-profile celebrities, along with Tom Cruise and John Travolta and has not publicly commented on Remini's defection from the church.
But journalist Tony Ortega, who broke the story of Remini dumping Scientology, claims in a new report that Alley is angry at Remini and a meeting was called for church officials to brief celebrities on the situation.
Article continues below advertisement
Ortega, whose anti-Scientology website broke the story of Remini leaving the church, claims in his new report:
A meeting was called for Alley and other celebrities to get a briefing from church executives about what was going on and what they planned to do about it. The meeting was held at the home of Melinda Brownstone - a longtime Scientologist.
On July 10, Alley sent out this cryptic tweet: "the sweetest poison is often served with a smile...beware syrup." Ortega claims that tweet was directed at Remini and that Alley made several calls asking church officials what they were going to do about the defection.
Brownstone, according to Ortega, is the godmother of Remini's daughter. Brownstone refused to comment on the situation to Ortega, according to his report.
But Remini's defection has caused major ripples about Scientology and its leadership, with multiple sources claiming Remini ­like others­ is fed up with the church's leadership, rather than its ideals.
Brownstone and Remini have not spoken since 2008, claims Ortega in the new report. But behind the scenes Alley and others church members are furious at the way Scientology is being portrayed in the aftermath of Remini leaving, he wrote.
Remini released one statement and has stayed quiet about the specifics behind her decision to abandon the church. The church has angrily denounced reports that she was subject to "thought modification" and nefarious speculation about whey church leader David Miscavige's wife has rarely been seen in public in the last five years. (Ortega says she has been seen once in all that time and Remini questioned why, setting off a years-long chain of events that led to her departure.)