Leah Remini's Sister Slams 'Nasty' Kirstie Alley Over Scientology Departure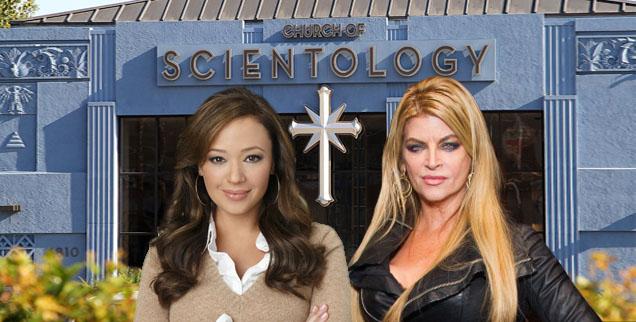 The sister of Scientology defector Leah Remini has slammed the church's poster child, actress Kirstie Alley, claiming she refused to help victims of Hurricane Sandy.
In a blockbuster radio interview, Nicole Remini unloaded on the controversial religion in the wake of her actress sister's decision to break away from the faith after reportedly being subjected to years of "interrogations" and "thought modification" because she dared to question the leadership of David Miscavige.
Article continues below advertisement
"I wasn't going to say anything," Nicole told My Talk 107.1, a radio station in Minneapolis-St. Paul. "I was going to wait for Leah to come out. But I told her, 'I'm your sister, your older sister and just like when we were in school, I am going to confront anyone who messes with my older sister.' Come to her defense."
One of those who has supposedly messed with Leah is ex-Cheers star Alley, 62, who reportedly participated in meetings with church executives about how to handle the King of Queens star's sudden exit.
She also tweeted, "When faced w malicious gossip I take a moment to experience the loss of the person I thought was my friendŠ then I say f--- em" -- something Nicole called "nasty" on Twitter.
On Tuesday, Alley denied that her tweets had anything to with Remini. Still, Nicole charged: "Have any of Leah¹s freinds told her that are in the Church, like, so-called (friend) Kirstie Alley, has Kirstie come to her and said, 'Wait, what happened? Are you ok? Did these things really happen.' No! Nobody has reached out to Leah. Not one person."
Article continues below advertisement
"This is how close her (Leah) and Kirstie are," she added.
"When Sandy happened, you know my sister is very, you know, her and I are very, like, you know, when disaster happens, we're running to them.
"Leah called Kirstie, called her at home, called her on her cell and said 'Hey, you know, I really want you to help me with Sandy relief, maybe help me get some generators, something, so we can, like, get Staten Island up and running.' Never heard back from her. Not a phone call, not a text, not... nothing!
From Thetans to Xenu! Seven Things You Didn't Know About Scientology
"It's like if we're such good friends, when I ask you to, like, help me. Help people, you never even called me back!"
Disconnection is said to be one of the main weapon of Scientology, where all ties are severed between a Scientologist and family and friends deemed to be antagonistic towards the controversial religion.
Unlike Nicole Kidman and Katie Holmes, who were said to have been declared Suppressive Persons (S.P.) -- a view that an individual could threaten the church -- in the wake of their divorces from Tom Cruise and subsequent departures from the church, Nicole insisted Leah had not yet suffered the same fate.
Article continues below advertisement
"Leah hasn't been declared a Suppressive Person," she said.
"She hasn't been declared, or... nobody said she was a Suppressive Person. Because when you get declared, you actually have to sign something and she has not signed anything; They're breaking their own rules right there to do what works for them right now. That's the David Miscavige way."
But Nicole did confirm that 43-year-old Rimini is facing a heart-breaking price for turning her back on Scientology.
She said, "You can imagine the circle of friends that my mother has, my sister has. They have literally pulled in these people and told them that they have to choose between their relationships with my mother and sister and the church. I am going to tell you: These people chose the church."
"When you are preaching morals and integrity, that is what your main teachings are; You're teaching your parishioners about morals and integrity but then you have the audacity to tell them you have to betray your own integrity and you have to go with us or you are out, too."
Article continues below advertisement
In a statement responding to Remini's sister's statements, the church told Radar: "The statements by Ms. Remini-Wiskow are absurd. Considering how big a wedding it was and her sister's comments published in the media about what a good time everyone had, it is pretty unbelievable this is the story being told. Further, she hasn't been in the Church since 2005, has no personal knowledge of any events described and knows firsthand that her own sister did not "disconnect" from her. Contrary to myths spouted by... anti-Scientologists, the Church cannot and does not "order" any parishioner to disconnect. Such a decision always has been and remains a deeply personal choice made entirely by the individual. This has been spelled out clearly on our website for years."
Audio from interview on myTalk 107.1 Radio/Lori and Julia Show:
https://media.radaronline.com/brand-img/wp-content/0x0/2013/07/1373947138-nicole_remini_loj_interview_excerpt_1..mp3
https://media.radaronline.com/brand-img/wp-content/0x0/2013/07/1373947867-nicole_remini_loj_interview_excerpt_2.mp3
https://media.radaronline.com/brand-img/wp-content/0x0/2013/07/1373948350-nicole_remini_loj_interview_excerpt_3.mp3
https://media.radaronline.com/brand-img/wp-content/0x0/2013/07/1373948898-nicole_remini_loj_interview_excerpt_4.mp3
https://media.radaronline.com/brand-img/wp-content/0x0/2013/07/1373949100-nicole_remini_loj_interview_excerpt_5.mp3