Leah Remini's Sister Reveals All The Details About Star's Scientology Defection: This Is Going To Get Ugly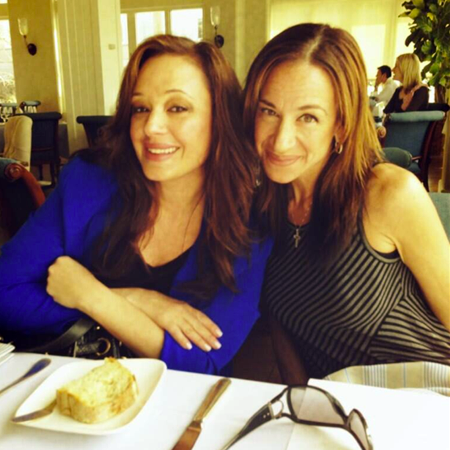 Leah Remini's older sister Nicole is revealing all the details of the star's defection from Scientology in a blockbuster interview, and RadarOnline has the details.
The church, known for its aggressive stance against critics and those who leave, has already turned long-time friends against Leah, says Nicole, who promises the situation is going to get ugly.
In an interview with myTalk 107.1 radio host Colleen Lindstrom Nicole attacked the church and revealed what's really been going on behind the scenes including:
Article continues below advertisement
· All of Remini's family has left the church
· Scientology is contacting Leah's network of people and telling them to choose between Leah and the church
· Leah did raise questions about the whereabouts of Shelly Miscavige, wife of David, head of the church
· Leah was checked by the church to make sure she wasn't a security risk in regards to Tom Cruise
"Everybody left," Nicole said of her family's recent departure from the church. "When this all came down, everybody had to make a choice whether they were going to stick by Leah or stick by the church. So they all left at the same time.
"This is how we are as a family. We stick together."
From Thetans to Xenu! Seven Things You Didn't Know About Scientology
When Remini questioned David Miscavige in 2006 about why his wife was not at the Tom Cruise-Katie Holmes wedding that set in motion a long chain of events that led to Leah's eventual defection.
"I think it's because she's a Remini and she rocked the boat," Nicole said.
"She questioned some bigwigs, and they know how connected she is, but there's a lot of things will start coming out that are absolute LIES. We're kind of expecting it, but you know where it's coming from. How stupid are you? Why are you doing this?
Article continues below advertisement
"This week is going to be ugly. There's more to come out. The press just isn't letting it go. She's just hanging in there. She's in good spirits. This too shall pass. Soon this will be old news, as long as the church lets it go. Which I don't think will happen. That would be the smartest thing to do."
Nicole revealed how the church is now turning people against Leah.
"You know we're Italian from Brooklyn, and we're very fast to jump in for one another," she said, "but you know the thing that bothers me most of all, we have been involved in Scientology 30, 35 years of our life.
"You can imagine the circle of friends that my mother has, that my sister has, they (the church) literally have pulled in these people and told them they had to choose between relationships with sister my mother or the church. People chose the church.
"And when you're preaching morals and integrity and that is like your main teachings are underlying, you are teaching your parishioners about morals and integrity, but then you have the audacity to tell them, you have to betray your own integrity, and you have to go with us, or you're out, too."
Article continues below advertisement
She said the pressure is so great that Leah was just disinvited from one of her best friend's wedding, a friend whose furniture the star paid for!
And Nicole added that Leah talked about Katie Holmes but they only "hung out a little bit" and only as couple friends. "It's not like they ever hung out one on one."
She said Leah was getting security checked "in regards to Tom."
In a statement responding to Remini's sister's statements, the church told Radar: "The statements by Ms. Remini-Wiskow are absurd. Considering how big a wedding it was and her sister's comments published in the media about what a good time everyone had, it is pretty unbelievable this is the story being told. Further, she hasn't been in the Church since 2005, has no personal knowledge of any events described and knows firsthand that her own sister did not "disconnect" from her. Contrary to myths spouted by... anti-Scientologists, the Church cannot and does not "order" any parishioner to disconnect. Such a decision always has been and remains a deeply personal choice made entirely by the individual. This has been spelled out clearly on our website for years."
Audio from interview on myTalk 107.1 Radio/Lori and Julia Show:
https://media.radaronline.com/brand-img/wp-content/0x0/2013/07/1373947138-nicole_remini_loj_interview_excerpt_1..mp3
https://media.radaronline.com/brand-img/wp-content/0x0/2013/07/1373947867-nicole_remini_loj_interview_excerpt_2.mp3
https://media.radaronline.com/brand-img/wp-content/0x0/2013/07/1373948350-nicole_remini_loj_interview_excerpt_3.mp3
https://media.radaronline.com/brand-img/wp-content/0x0/2013/07/1373948898-nicole_remini_loj_interview_excerpt_4.mp3
https://media.radaronline.com/brand-img/wp-content/0x0/2013/07/1373949100-nicole_remini_loj_interview_excerpt_5.mp3