Exclusive
JLo Stands By Ex-Scientologist Leah Remini, Reveals Sister Of 'King Of Queens' Star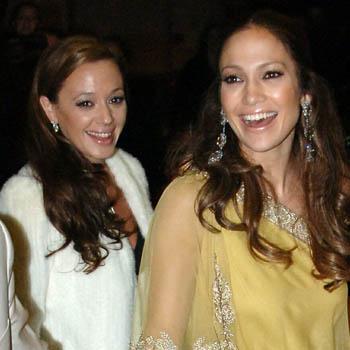 Leah Remini is "shocked" at the fall-out that she's witnessed since announcing her departure from the Church of Scientology, her sister Nicole Remini-Wiskow tells RadarOnline.com in an exclusive interview.
And among the harsh lessons she's had to learn is the discovery of who her friends really are. "Nobody from the Church of Scientology has reached out to Leah," Nicole claims. "I can't wrap my head around what's happening."
Article continues below advertisement
Most shockingly, she says, is the fact that Leah's one-time friend Kirstie Alley hasn't called, deciding instead to post cryptic messages on Twitter, as RadarOnline.com has reported.
"Any report that Kirstie and Leah have spoken," Nicole says, "is absolutely not true. Leah is shocked it escalated to this."
From Thetans to Xenu! Seven Things You Didn't Know About Scientology
Though devastating, the experience is showing "Leah who her friends truly have been and why they've been her friends," Nicole explains. "Not because they love and care about her, but because she was a Scientologist and a celebrity. If you were really my sister's friend, you'd be calling her and going 'How are you? I know this is tough, but I really hope it works itself out.' Not Kirstie's nasty comments."
Kirstie tweeted about being betrayed by a friend after news of Leah's defection broke, but she later insisted the tweets were about someone entirely different. The Church of Scientology insists that they do not order members to cut off ties with those who leave the church.
Luckily, Nicole says, she has another celebrity sticking by her: Jennifer Lopez. "That's her best friend," Nicole reveals. "She's been great."
And Leah's family is sticking by her too. "My mom, my stepdad, my brother-in-law, my other sister and my husband all decided together to leave the church with Leah," Nicole explains. "No one's gonna stay. So the family's really supporting her too. We're all sticking together."
"I just feel like I'm defending my sister and my mom's honor," Nicole explains....This is like being around bullies! It's just like when we were kids. I will come to Leah's defense no matter what."