Scientology Pushes Back Against Leah Remini: Celebrities & Friends Told To Dump Her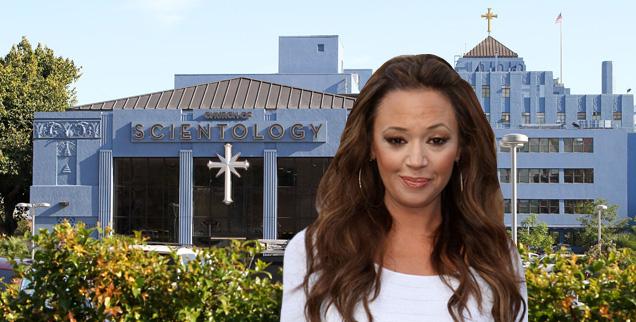 The pushback against Scientology defector Leah Remini has begun, with the church encouraging celebrities and friends to cut ties with the King of Queens star, according to a new report and RadarOnline has the details.
While Tom Cruise, John Travolta and Kirstie Alley show that Scientology still has plenty of star power left in its ranks, Remini's high-profile defection has caused a flood of publicity – and now the church's high profile stars have been told to "disconnect" from Leah.
Article continues below advertisement
What's more friends have also been told they cannot be in communication with her, according to Tony Ortega, former editor of the Village Voice, who broke the story that Remini was dumping the church.
According to Ortega:
"Scientology celebrities have received their marching orders from the Hollywood Celebrity Centre: They cannot be "in comm" with Leah Remini…Members calling the Celebrity Centre are being told that Remini has not yet been "declared a Suppressive Person" — Scientology's equivalent of excommunication — but she is considered "not in good standing," and celebrities are told that they cannot communicate with her, and must also immediately defriend her and any of her family members on Facebook."
The church has mounted its usual assault on media reports deemed unfavorable, trashing Ortega as a discredited journalist whose holds a grudge against Scientology, and directing media outlets to a website filled with negative information about the journalist. (Did the church set up that website? One person familiar with the situation says it did.)
But Ortega broke the Remini defection news, and then was backed up by reports in the New York Post, creating a firestorm of publicity that many members are unhappy with the church's leadership and the way people are treated.
Article continues below advertisement
As RadarOnline.com reported, Remini and her family made a pact that they would not be torn apart by the religion and would continue to talk and maintain relationships with each other, even if the church declared her a "suppressive person," which it apparently has not done so far.
Michelle Workman, self-described as one of Hollywood's most sought-after interior designers, listed Remini as a client on the "about" page of her website, Ortega reported—showing a graphic that backed up his claim.
Now, Workman has eliminated Remini's name, Ortega reported and RadarOnline.com confirmed. Click here for the proof.
Remini's name was eliminated just days ago Ortega reported.
Kirstie Alley is said by Ortega to be furious at Remini's defection but has sent out a series of cryptic tweets, not mentioning Leah by name.