Leah Remini & Family Vow Scientology Won't Tear Them Apart Now That She's Left Church: Source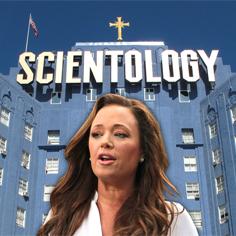 Leah Remini has left the Church of Scientology but has no intention of being cut out of the lives of any friends or family left behind, RadarOnline has learned.
The King of Queens star made a dramatic break with the religion , as RadarOnline.com reported earlier. And while her departure is a high-profile defection for a church that counts Tom Cruise and John Travolta among its star devotees, the story may just be beginning, not ending.
Article continues below advertisement
"Leah still has family and friends in Scientology. Her husband left with her, but others have not," a source told RadarOnline.com exclusively.
"But she has made a pact with certain family members not to let her departure from Scientology tear them apart.
"This is significant because Scientology practices "disconnection" where ex members are shunned by those still in the church, no matter what their relationship is."
Many ex members have confirmed that Scientology actively encouraged remaining members to turn their backs on anyone who left, no matter what the relationship. Father, mother, daughter, son, siblings – no relationship was too close to withstand leaving the religion.
Tony Ortega, former editor of the Village Voice, broke the story that Remini was ditching the religion.
Remini confirmed her departure from Scientology and released this statement:
Article continues below advertisement
"I wish to share my sincere and heartfelt appreciation for the overwhelming positive response I have received from the media, my colleagues, and from fans around the world. I am truly grateful and thankful for all your support."
Now, her friends and at least one family member, remains behind. But they will not break off contact.
People who defect and then talk about it are particularly shunned by Scientology.
"It's not as easy to get out as quitting," one source told RadarOnline.com. "If she goes on TV and talks about leaving Scientology the religion will try to have people disconnect from her."
Her friends and family left behind likely would then face heavy pressure to break ties with Leah.
It is not yet known what the star will do in terms of going public with her reasons for leaving the religion.
The New York Post claimed the Church viewed her as a troublemaker after she questioned David Miscavige about why his wife was almost never seen in public. She also was put through "thought modification" the paper claimed.
UPDATE: 3:15 PM: A rep from the Church of Scientology told us, "The Church respects the privacy of parishioners and has no further comment." The Church went on to say "on a broader level, please note the following, which is not to be construed as a comment about Ms. Remini. We have read numerous allegations about the Church in the coverage of this story that are categorically false, alleging so-called policies and practices. The allegations of "interrogations" and "thought modification" are absurd and pure nonsense, as are all the statements made about the Church's leader, Mr. David Miscavige. Under the 25-year leadership of Mr. Miscavige, following in the footsteps of our Founder, L. Ron Hubbard, the Church is enjoying tremendous expansion as shown in our new churches opening in six continents and the many new parishioners joining their congregations."