Exclusive
X Factor's Stacy Francis Had Affair With Bishop Noel Jones, He's Her Baby Daddy!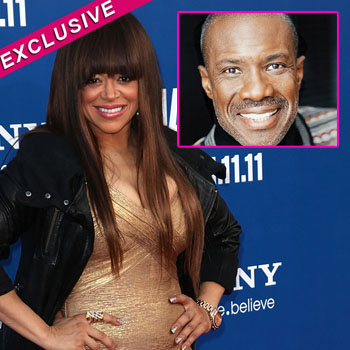 Article continues below advertisement
"It was very taboo for a man in his position in the church to get involved with a married woman!" the source exclusively told RadarOnline.com.
Bishop Jones, 62, runs the City of Refuge Church in Gardena, Calif., is the brother of outrageous singer and supermodel Grace Jones, and has been romantically linked to famous faces like Real Housewives of Atlanta star NeNe Leakes and actress LisaRaye McCoy.
"Stacy is very protective of her children and feels like she should be the one to release information about her baby's father when she's ready," the source said.
"But at the same time, she's getting really tired of hiding and trying to avoid all the questions."
Tired of hiding, Stacy, 42, eventually confirmed Bishop Jones is her daughter's father exclusively telling RadarOnline.com, "I love him very much and I am not ashamed of my baby. Our baby."
It was Stacy who fueled the fire in the first place regarding the paternity of Anastasia when she appeared on VH1's Beverly Hills Fabulous and admitted to becoming pregnant from a man other than her husband.
Article continues below advertisement
"I just finished going through a divorce," a very pregnant Stacy said on the show to stylist Elgin Charles while getting her hair done. "We were actually separated and we were going through the divorce and it's not his baby."
Not one to shy away from the spotlight, Stacy was famously involved in a nightclub altercation with Whitney Houston just days before Whitney's unexpected death, where sources said the two women were fighting for attention from hip hop artist, Ray J.