Whitney Houston's Wild Night Out; Tequila & Tantrums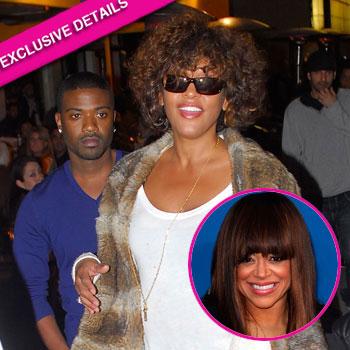 Article continues below advertisement
PHOTO: Crime Lab Van At The Beverly Hilton Hotel
"She ran over to them and began screaming, 'This is my man! I'm a cougar! B*tch, get away from my man,'" a source told us. Ray J tried to calm her down, telling Houston that Francis was a "longtime family friend" but Houston still pointed and screamed.
"The other artists in the area tried to surround them so that people wouldn't begin coming into the area where they were and taking photos or video," the source explained.
Francis tried to calm Houston down, too. "Whitney, I love you baby. It's not like that. Calm down, you're causing a scene," she pleaded. Houston then shoved Francis in her forehead and Francis shoved her back.
"The other singers had to jump in and separate them. People were pleading for Whitney to chill out. It was embarrassing," the source disclosed.
Francis acknowledged the incident on her Twitter account in a message she later deleted saying, "oh boy. .... She and Ray J are a couple and she thought that Ray was interested in me. So she asked who was I to him.."
Article continues below advertisement
"Whitney was drinking tequila the entire night and appeared to be highly intoxicated," an eyewitness told RadarOnline.com.
At some point during the madness, Houston scratched her leg and blood began to stream down. Kelly Price had to stop hosting her own Pre-Grammy bash to come backstage to mediate the situation.
"Kelly told Whitney that it was okay if she left and thanked her for coming. She had someone take Stacy to get her something to drink and help her freshen up her makeup," the source added.
Francis later joined Price onstage to sing Etta James' At Last and sung as though nothing ever happened.
Though those in attendance said there was no evidence of drug use by Houston at the party, she was drinking tequila the entire night and appeared to be "highly intoxicated."
"She drank from the same cup all night, but her assistant and Ray J held the cup and kept people from photographing her with it," the source closed.