Whitney Houston's Final Performance: 'Yes, Jesus Loves Me'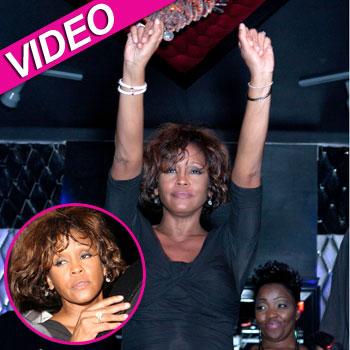 Less than 48 hours before her death, Whitney Houston gave what would be her final performance at a Hollywood nightclub and RadarOnline.com has the video footage.
The 48-year-old was at Tru Hollywood nightclub on Thursday night and when Kelly Price acknowledged her presence, Whitney joined the stage and began to sing Yes, Jesus Loves Me.
The audience went wild to see the iconic singer perform.
Article continues below advertisement
PHOTO: Crime Lab Van At The Beverly Hilton Hotel
On Saturday Kelly attended a pre-Grammy brunch, and spoke about her event and what would turn out to be Whitney's final performance. She said at the time that the singer was doing great – not knowing that just a few hours later, the Bodyguard star would be dead.
"I wasn't expecting Whitney to take the stage, but she came up. She got on the stage, and while I was talking to her, she grabbed the microphone and started singing. So that's kind of cool," Kelly told MTV News.
Kelly also addressed Whitney's health after pictures emerged of the singer looking disheveled as she left the party on Thursday night with singer Ray J.
"I honestly don't know what all the craziness is about," Kelly said. "We partied so hard, we all looked a mess when we walked out of the club. But that's a good party. You sweat. You do that."
Whitney's 18-year-old daughter Bobbi Kristina was also at the event spending time with her mother. The teen is said to be "inconsolable" at the news of her mother's death, whose body was found at the Beverly Hilton hotel on February 11.