Kirstie Alley Slams 'Repulsive' 'Bigot' Leah Remini Over Scientology Split: 'You Are My Enemy'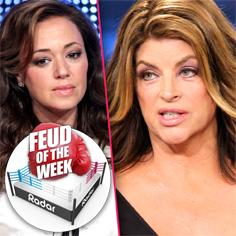 Article continues below advertisement
"I think that is the most repulsive thing that a person can do," Alley told Stern on Wednesday,"is attack another person's faith."
"No one cares that she's left Scientology," Stern responded. "Are you upset with her that she's being so f****g vocal and critical about it? Or you don't care?"
"First of all," Alley said, "I just want everyone to know that I have hundreds of friends who have come into Scientology and left Scientology … You're not shunned, you're not chased. All that stuff's bullish*t."
"However," she snapped, "when you are generalizing and when your goal is to malign and to say things about an entire group … when you decide to blanket statement that Scientology is evil, you are my enemy."
"The truth is I don't think I've seen Leah for like seven or eight years," she admitted, "not for any reason other than I'm acting and she's acting. ...
I didn't care if she was in or out, I honestly didn't."
Article continues below advertisement
But despite that claim, Alley admits, "I have blocked her on Twitter. Because she's a bigot!"
"If she was saying … Jews are evil, Jews are a cult, would they be your friend?" she asked Stern, who is Jewish. "They wouldn't be mine. …It's not selective. I just won't have people in my life that are that."
Alley told Stern that she first became attracted to Scientology when she drove by the Celebrity Center in L.A. and "saw all these Porsches and Mercedes parked outside."
"I was like, 'These people are rich!'" she said. Later, a friend gave her a copy of Dianetics, L. Ron Hubbard's famous Scientology tome, which Alley claims she read while doing lines of cocaine.
She admits she thought, "This is either the world's biggest sham or the world's biggest discovery. So I decided I'm moving to California to find out."
When her parents warned her against getting involved with a cult, she says she looked up the definition of the word in a dictionary and found it to be "benign."
"Cult didn't scare me," she claims.
She's been a vocal Scientologist ever since.