Leah Remini Breaks Silence On Scientology Defection: 'I'm Not About To Shut Up'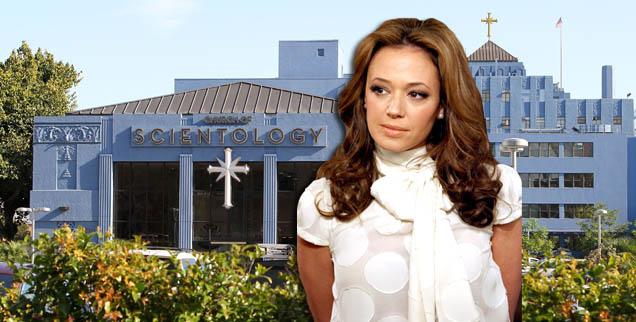 King of Queens star Leah Remini has broken her silence on her defection from Scientology, issuing her most direct words about her decision to dump the church after more than 30 years and vowing that she will not "shut up."
Remini and her entire family have left Scientology after a bizarre series of events that unfolded during at least the past seven years, with A-list stars writing "knowledge reports" about her. Leah's persistent questions about the whereabouts of church head David Miscavige's wife created controversy.
Article continues below advertisement
"We stand united, my family and I, and I think that says a lot about who we are, and what we're about," Remini told People magazine on Saturday at the 15th annual DesignCare event in Malibu, California.
Leah's mother was advanced in the church's teachings but the entire family is supporting the actress, including older sister Nicole who has spoken out and revealed jaw-dropping details about events involving Scientologists.
After former Village Voice editor Tony Ortega broke the story that Leah was leaving Scientology, Nicole gave interviews saying that her sister questioned Miscavige in 2006 at Tom Cruise and Katy Holmes' wedding about the whereabouts of his wife Shelly, who was not at the event.
Shelly Miscaviage has been seen in public approximately once in the past seven years, and although the church says she is fine, Leah questioned why she was not seen and why she was not in contact with anybody.
Article continues below advertisement
That started a chain of events that appeared to be reprisals against the actress. But on Saturday, Leah let everyone know that the church was not going to silence her.
"I believe that people should be able to question things," Leah said. "I believe that people should value family, and value friendships, and hold those things sacrosanct.
"That for me, that's what I'm about. It wouldn't matter what it was, simply because no one is going to tell me how I need to think, no one is going to tell me who I can, and cannot, talk to. It doesn't matter, it could be anything."
Numerous ex church members say the church encourages members to break off contact with people who leave Scientology. The church has denied this is their policy in comments to Radar. But the reports persist.
"I thought about the family being broken up for some other cause, and I'm not about to shut up," Remini said in her most powerful statement yet about Scientology.
Her sister Nicole has said both Kristie Alley and Holmes wrote "knowledge reports" about Leah's activities, that long-time friends have cut her off now that she left the church, and that Alley, in particular, was disloyal.