Rupert Murdoch Tweets Attack On Scientology, Calls It 'Creepy Weird Cult, Maybe Evil'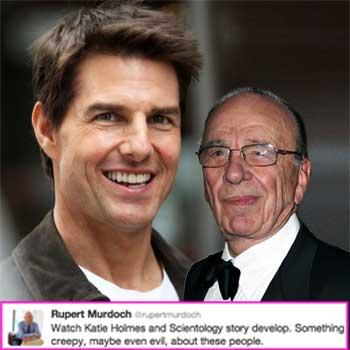 Rupert Murdoch has launched a scathing Twitter attack on Scientology in the midst of the Tom Cruise - Katie Holmes divorce drama.
The 81-year-old media media mogul tweeted on Sunday, "Watch Katie Holmes & Scientology story. Something creepy, maybe even evil, about these people."
"Scientology back in the news. Very weird cult, but big, big money involved with Tom Cruise either number two or three in hierarchy," he also wrote.
Article continues below advertisement
And after Murdoch began getting some tweets disagreeing with him, the outspoken Australian did not back down.
"Since Scientology tweets hundreds of attacks. Expect they will increase and get worse and maybe threatening. Still stick to my story," he tweeted.
As RadarOnline.com has reported, Murdoch is no stranger to "creepy" and "evil" himself. His News Corps empire has been embroiled in a phone hacking scandal that has seen a number of his top editors and reporters arrested and his top-selling UK tabloid News of the World shut down.