Rupert Murdoch's Company To Pay 36 Victims, Including Jude Law, In Phone Hacking Scandal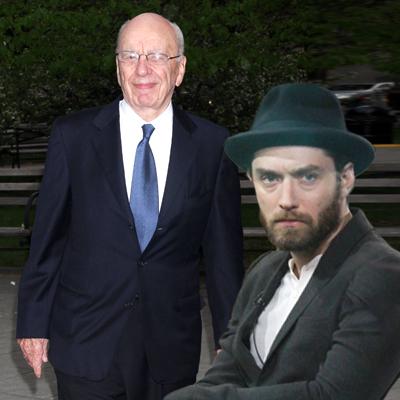 Rupert Murdoch's News Group Newspapers has agreed to shell out restitution payments to 36 victims, including actor Jude Law, in the phone-hacking scandal that also saw Murdoch's News of the World shut down last July after 168 years in circulation.
The A-lister Law is getting about $200,000 for 16 articles published between 2003 until 2006 that were derived by hacking.
Law said in a statement that Murdoch's publications were "prepared to do anything to sell their newspapers and to make money, irrespective of the impact it had on people's lives. ... I changed my phones, I had my house swept for bugs but still the information kept being published. I started to become distrustful of people close to me.
Article continues below advertisement
"For me this case was never about money," the Sherlock Holmes star said. "It was about standing up for myself and finding out what had happened. I owed it to my friends and family as well as myself to do this."
Soccer star Ashley Cole, actress Sadie Frost, and ex-British Deputy Prime Minister John Prescott are also on the list of celebs who will collect in the wake of the recently-announced agreement.